Perhaps his "Apple" is still really ahead
Grigory Yavlinsky is 70 years old: the chairman of the federal political committee of the Yabloko party was born on April 10, 1952. A good reason to remember the good deeds of a good person. And this is not a duty flattery. Even the political enemies of Grigory Alekseevich admit that "as a person, of course, he is not a bad one." And there is nothing to talk about friends. However, he always had few friends – political allies. And now, perhaps, that is not left at all. Well, outside of Apple, of course.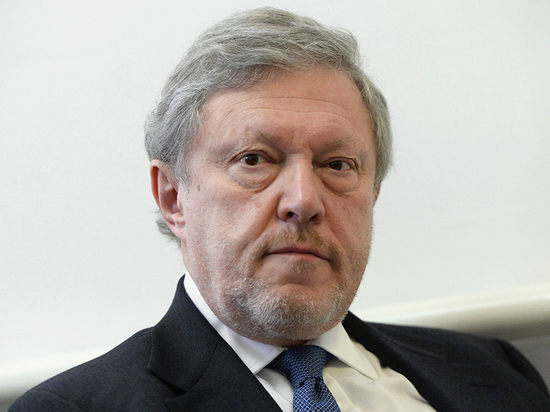 "Do not have a hundred rubles, but have a hundred friends" – not his creed. His is different: "The most pragmatic is a policy built on principles and moral foundations." No, many politicians proclaim this – in different variations. But very few people follow it. And in the Russian political system, such people are a rarity.
As a politician, Yavlinsky, of course, is an element of this system. But some kind of special, alien, "white-raven" element. It is difficult to say to what extent this otherness is due to the origin of the politician. However, his share of "responsibility" for the vicissitudes of his fate, it undoubtedly bears.
Yavlinsky was born in Ukraine. And not just in Ukraine, but in the very heart, in the main city of its western part – in Lviv. His parents are buried there, and his brother and his family still live there to this day. And no matter what happened in relations between Russia and Ukraine, Yavlinsky never renounced his small homeland.
"Completely different from the rest – mysterious, unusual," the hero of the day described the city of his childhood several years ago in an interview with a Ukrainian publication. "With churches, narrow streets, with many mysterious places about which it was impossible to really find out anything … He is always mine – I know every nook and cranny of him."
Yavlinsky studied at a Ukrainian school and is still fluent in language. He came to Moscow when he was 17 years old. Naturally – to study. He entered the Plekhanov Moscow Institute of National Economy and graduated with honors. Then he graduated from graduate school. According to the politician, unlike other non-Muscovites, he never had a provincial complex.
"I didn't feel deprived in this regard – on the contrary," Yavlinsky recalled. – And although I didn't really want to talk about this to my Moscow comrades, I think I knew better about music at that time. Our guys even dressed more elegantly, because it was possible to get worn jeans from Poland, but still get them. That is, my city seemed to me more advanced: we danced better, looked after girls more gallantly, read books more interestingly, knew more languages ​​… I felt like a Western capital person, and this, by the way, was of great importance throughout my life. .
Sports certainly gave him self-confidence. Yavlinsky, by the way, is a two-time boxing champion of the Ukrainian SSR among juniors (1967 and 1968). Out of 44 fights, he won 43. From here, from boxing, he took out another life rule: "You must be strong, not evil. The stronger you are, the kinder you are."
"The first thought," Yavlinsky recalls, "that came to my mind in the ring: why should I actually beat him?" Therefore, he usually lost the first rounds: he must be very angry so that he stops feeling sorry for the enemy. But then it was impossible to keep him.
Once, 15-year-old Grisha Yavlinsky was "given to be torn to pieces", in his own words, by a rival who clearly surpassed him both in age and in weight. This was an obvious fraud on the part of the organizers of the competition. "In the first round I had a knockdown," Yavlinsky recalled. – He just laid me down. I barely got up. But when, during the break between rounds, the coach explained to the young boxer what was the matter, he got a second wind.
"It was a terrible injustice," Yavlinsky recalled. – It was a deceit, disgust, meanness. It was unbearable. I still won the fight. He got it right. I made a meatball out of it. Just a cutlet! What strength did I have after that! How I believed in myself! I defeated the overage goat's deception."
Fighting qualities were fully manifested in adulthood. After completing his studies, Yavlinsky got into the All-Union Research Institute of Management under the USSR Ministry of Coal Industry. His duties included compiling job descriptions for engineers and employees of the mines, which was impossible without a close acquaintance with the subject. For several years he wandered around the country – in the coal-mining regions. Went down into the mines.
During one of one of these business trips, an accident happened – a collapse of the rock. For many hours Yavlinsky had to stand waist-deep in icy water waiting for rescuers. "There were 18 of us there," he recalled. – Some died there, some – later in the hospital. As we were later explained, we stood in the water for about 20 hours. The water was very cold. But I was young. I was in the hospital – I had pneumonia. That was it."
And then there was another accident – a political one. Collision with the state machine. In 1982, Yavlinsky writes and publishes a large work in which he proves that the Soviet economy in its current form has no prospects. That she can work either at gunpoint, as under Stalin, or in a free market.
The book, of course, was not intended for the mass reader: it was published in an edition of 300 copies marked "for official use." But those "who need it" read it. And they strongly doubted the trustworthiness of the author. For half a year, Yavlinsky did not get out of interrogations at the KGB. After Brezhnev's death, however, everything stopped. But, as it turned out, it was only a respite. The system went the other way.
Physicians of the Fourth Directorate of the USSR Ministry of Health suddenly "discovered" Yavlinsky has pulmonary tuberculosis. And in a very severe form. Yavlinsky is taken to a specialized hospital, an operation is scheduled to remove a lung … But on the eve of the operation, the surgeon leans towards him and whispers in his ear: "Run away from here. You're healthy." He followed the advice and ran away – right in his hospital pajamas. And thanks to this, I did not become disabled.
And then the restructuring happened. The persecution is over – a career take-off has begun. In 1989, Yavlinsky was appointed head of the consolidated economic department of the Council of Ministers of the USSR. And a year later, in July 1990, the finest hour of Grigory Alekseevich comes: he becomes deputy chairman of the Council of Ministers of the RSFSR, chairman of the state commission for economic reform.
In this post, Yavlinsky is preparing "500 days" – a program for the transformation of the Soviet economy into a market one. The program was approved by the Supreme Soviet of the RSFSR, it was supported by the majority of the leaders of the Soviet republics. But in the end it was rejected by both the Soviet and Russian leadership.
"What was the main point? – says Yavlinsky about his offspring. – There was money, but there were no goods. Everything was empty. Meaning of "500 days" was to offer people to buy for this money what was forbidden to buy in the Soviet Union: hairdressers, shops, small ateliers, dry cleaners, some canteens. Balance supply and demand by selling means of production. And pass it on to all citizens from the state. That is, to create a middle class, to create an entrepreneurial community. And the second most important point was to preserve the economic union between the republics of the USSR… Yeltsin said that Russia would go alone. I categorically rejected this plan."
Finding no support either in the Kremlin or in the White House, Yavlinsky resigned in November 1990. True, after the August coup, he returns to power for a short time – he becomes deputy head of the Committee for the Operational Management of the National Economy of the USSR, which replaced the Soviet Cabinet of Ministers, which took an active part in the coup attempt and therefore dissolved.
According to Boris Yeltsin, Yavlinsky's candidacy was considered by the leadership of Russia during the casting for the role of the new Russian prime minister. But in the end it was rejected.
"Undoubtedly, the most popular economist in the country at that time was Grigory Yavlinsky," Yeltsin wrote in his memoirs. – But, exhausted by the struggle for his program, he has already acquired some painful reactions. In addition, it was purely psychologically difficult to return for the second time to the same – albeit revised – program "500 days"; and its creators".
According to Yavlinsky, everything was completely different. His candidacy was not just discussed, Yeltsin directly offered him the post of head of the cabinet. Refused the premiership, says Yavlinsky, he himself: "Because he didn't want to do what he insisted on. There were two circumstances that were completely unacceptable to me – the first: to release all prices in one day and get hyperinflation, and the second: to break economic ties with other republics.
But Yeltsin seemed to be right on at least one point. It looks like the sad fate of "500 days" and indeed produced in him a certain psychological breakdown. Well, or fracture. After the economic reform plan he proposed was finally rejected, and this happened just in the stormy autumn of 1991, he left power, executive power, completely and irrevocably. And since then, not a foot in it. Whatever they called. But they called. Also what was the name.
They called very insistently, for example, between the first and second rounds of the 1996 presidential elections. "Chubais, heading the analytical group of the campaign headquarters, led the him active negotiations," Yeltsin recalled. – Perhaps agree to & nbsp; that moment Gregory Alekseevich support me in the second round, had he stepped over his caution in choosing allies, and the whole history of our reforms would have gone differently. But a perfectly white political collar turned out to be more expensive. But even then he had the opportunity to show everyone & nbsp; to their opponents, how to "live in good conscience".
They called later. "We had a great chance to form an energetic, modern and democratic government in 1997, and he was offered the post of First Deputy Prime Minister (and he could lead a bloc related to the economy, privatization), lamented in his book "Confessions of a Rebel" Boris Nemtsov. – Yavlinsky refused. Then Primakov called him to his government. Yavlinsky refused again…"
At some point, this political misanthropy extended to colleagues in the opposition workshop. The last political alliance concluded with the participation of Yavlinsky was the Yavlinsky-Boldyrev-Lukin electoral bloc, formed in November 1993 to participate in the first elections to the State Duma. It was the initial letters of the surnames of the founding fathers of the association that gave the name to the subsequently created on the basis of the Yabloko block.
But it turned out, as in that children's riddle about A and B sitting on the pipe. First, B fell: Yuri Boldyrev left the party in 1995. And in the end, L disappeared too: Vladimir Lukin ceased his membership in Yabloko in 2020 Only I remained. In fairness, it was not Yavlinsky who initiated both of these partings: Boldyrev and Lukin themselves left Yabloko. in view of the differences with the party line. But there are also enough of those who were expelled from the party. Among these outcasts, for example, are Oksana Dmitrieva, Maxim Reznik, Maxim Katz, Ilya Yashin.
Well, as for attempts to make friends, undertaken from outside, Grigory Alekseevich was a flint at all. The most famous and, perhaps, the most tragic of them refers to 2003, when regular parliamentary elections were held in the country. Sociology clearly showed that the only chance for the "Union of Right Forces" and "Apple" to remain in the Duma, there was a unification of efforts. But this chance was not used.
"Why in 2003 "Union of Right Forces" and the party "Yabloko" did not unite in a single coalition? – Boris Nemtsov recalled – The answer is obvious to me: personal ambitions got in the way … Yavlinsky said that under no circumstances would he appear next to Chubais. Therefore, we had to guarantee that Chubais would not be in this association. In addition, we suggested that Yavlinsky be nominated by the united democrats as a single presidential candidate, although, of course, we understood that Grigory Alekseevich was far from ideal.
We hoped that the pooling of resources and a radical increase in funding for the democratic coalition could bring us up to 20 percent of the vote in the Duma, and therefore we were ready to make concessions … Our proposal for Khodorkovsky (the then sponsor of both parties – A.V.) produced a strong impression. He went to Grigory Alekseevich. What he talked about, I don't know. But I know the answer – "No!" A firm "no" … The result of this inexplicable intransigence and intractability is known to everyone.
Grigory Alekseevich is a man of liberal democratic convictions, good as an oppositionist, actively criticizes the authorities, often correctly and with arguments. He has one problem: he doesn't take responsibility."
It is difficult to say how justified such a cautious tactic. She certainly has her advantages. To see them, it is enough to recall the fate of the same "Union of Right Forces": there is no longer such a party. And Boris Nemtsov has been gone for seven years now. And "Apple" lives for himself, does well.
In today's times, the existence of a liberal party that does not separate the internal and external policies of the authorities is in itself a huge achievement. Well, from the point of view of the supporters of this party, of course. As they say, not to fat. Analogues "Apple" there is no political system in the liberal nook now. Some of its former inhabitants are gone, and those are far away.
But as far as the political goals declared by the party are concerned, everything is exactly the opposite. From them "Apple" further and further every year. Perhaps there is some strategic calculation behind this: avoiding "local battles", "Yabloko" and its informal leader (formal, for reference, Nikolai Rybakov) are saving themselves for some future, decisive political battles. But in this case, this endless retreat brings to mind the anecdote about our military advisers in Iraq.
When the Americans seized the power of the furious Saddam, the advisers, of course, were recalled to Moscow and called to the carpet. They justified themselves as follows: they say, in accordance with the strategy that has justified itself well in Russia, they advised the Iraqis to lure the enemy deep into the country. And everything went very well. But Iraq suddenly ended.
So it is here. Grigory Alekseevich was cautious, avoided dangerous ties and risks, looked after the purity of his political robes as best he could … And suddenly – bam: 70. God forbid, of course, to consider that this is the end of Grigory Yavlinsky's political life. Papa Muller, and after him Member of the Politburo of the Central Committee of the CPSU Mikhail Suslov, generally believed that "70 is the heyday of a politician."
Besides, as you know, His ways are inscrutable. Perhaps the time of Yavlinsky and Yabloko and indeed it has not yet come, perhaps they really still have a long way to go. But this is inaccurate.