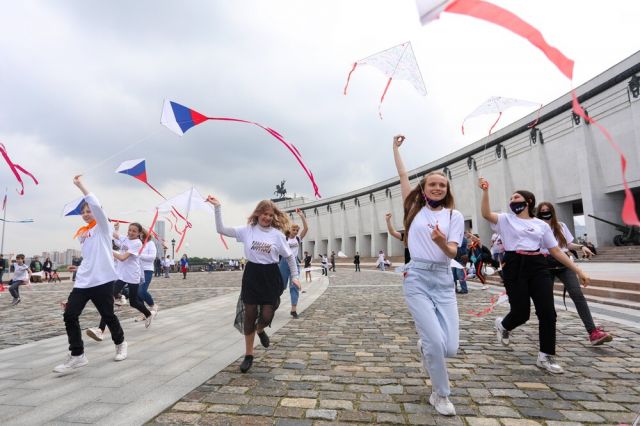 On June 1, the Victory Museum will host a festive program timed to coincide with the celebration of International Children's Day. On this day, the entrance to the main building of the museum for large families will be free (except for the expositions "Feat of the People" and "Battle for Moscow. First Victory").
"On this day, we invite children and parents to join this kind, wonderful holiday. In our museum, visitors are waiting for exciting excursions, master classes, film screenings and other entertaining and educational events», — organizers said.
A large film program has been prepared for the guests of the museum, within the framework of which from 12:00 visitors will see 10 animated videos of the "Children's Book of War" At the heart of the commercials — revived diaries of those who carried all the horrors of the Great Patriotic War on an equal footing with adults. The cartoons are voiced by famous theater and film artists, TV presenters, etc. Guests will also watch and discuss a short film of seven true stories about heroic deeds committed by young residents of Russian cities, — "No time for heroism".
In addition, visitors will be invited to a private screening of the 20-minute film "Your Live Broadcast". The film tells about the hard fate of the girl Mila and her younger brother Andrey, whose mother died, and their father suffers from alcoholism. Experiencing life's troubles, Mila decides to become her brother's guardian and start life from scratch.
Museum guests, upon prior registration, will be able to visit a free tour of the large-scale exhibition "The Feat of the People", which will be conducted by a theater and film actress < strong>Miroslava Karpovich. Also, for everyone there will be an open lesson from the Center for Aesthetic Education Alexey Egorovwhere you can practice fine arts and feel the real atmosphere of an artistic plein air.
The film program will end with the screening of the film "Africa". The action of the picture takes place in 1943 on the outskirts of besieged Leningrad. Three children and their mother remain in the deserted village. In search of food, the guys set off on the road, facing a difficult choice — save a family or a wounded dog that they find at the scene of the battle.
The finale of the festive program of the day will be a concert that will be held as part of the Patriotic festival of children's creativity "Cranes of Victory". Soloists of the Art-Express Foundation for the Support of Gifted Children will take part in the concert. All participants are laureates of international and all-Russian competitions.
The event starts at 10:30. More details about the holiday program can be found on the website.
Rate the material