Half US states to ban abortion: liberals furious
While Joe Biden is building a Western coalition against Russia and helping Ukraine, stunning deeds are happening in America itself that are dividing the country. The US Supreme Court overturned the constitutional right to abortion. Now half of the US states are going to ban artificial termination of pregnancy. The liberal public is sounding the alarm, and the Democratic-controlled states promise to help women from the Republican regions with abortions.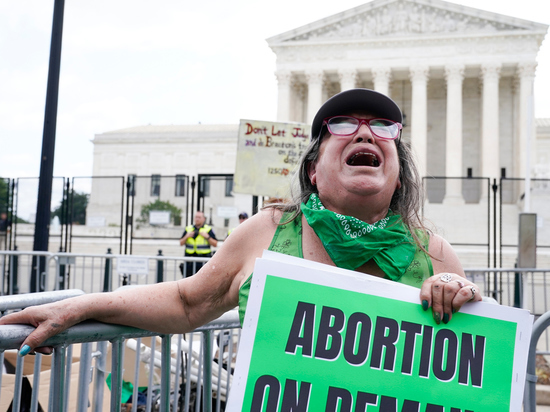 Photo: AP
The US Supreme Court has ruled that there is no constitutional right to abortion in the United States, turning on its head a precedent set nearly 50 years ago in the landmark Roe v. Wade case.< /p>
Then, in the early 1970s. the court ruled that a woman has the right to terminate a pregnancy of her own free will until the fetus becomes viable. The approximate time to achieve autonomy is 28 weeks, however, the threshold can be lowered to 24 weeks. In the later stages of pregnancy, an abortion can only be performed if the preservation of the fetus is dangerous to the mother.
In 1971, an American woman, Norma McCorvey, known in court documents as Jane Roe, filed a lawsuit against Henry Wade, the county's district attorney. Dallas, which enacted a Texas law banning abortion except to save a woman's life.
On January 22, 1973, the US Supreme Court overwhelmingly affirmed the legality of a woman's right to an abortion under the Fourteenth Amendment to the Constitution. The court ruled that a woman's right to an abortion falls under the right to privacy protected by the 14th Amendment. The decision gave a woman the right to an abortion throughout her pregnancy and defined different levels of public interest in regulating abortion in the second and third trimesters. The ruling affected laws in 46 states.
In 2003, reformed from pro-life to anti-abortion, Norma McCorvey (Roe) files a motion in Dallas federal district court to dismiss the case and asks the court to consider new evidence that abortion harms women. Included are 1,000 affidavits from women who say they regret their abortions. In 2004, a three-judge panel of the 5th US Circuit Court of Appeals in New Orleans denied McCorvey's motion to dismiss the case.
The court's current ruling comes from the landmark Dobbs v. Jackson Women's Health Organization, in which a Mississippi abortion clinic opposed state efforts to ban abortion after 15 weeks.
"The Constitution makes no reference to abortion, and no such right is implicitly protected by any constitutional provision," the Conservative judges said in a statement. Three liberal justices of the Supreme Court disagreed with this verdict, but were in the minority.
Reversal of the 1973 judgment would once again allow individual US states to ban abortion. At least 26 states are expected to do so immediately or as soon as possible.
The ruling will undoubtedly be one of the most important for generations of Americans, The Guardian notes. It will have profound, immediate, and long-lasting effects on the lives of tens of millions of American women, as well as unpredictable ripple effects that could take decades.
"This is something unprecedented, and even if it's not exactly unprecedented, it's extremely rare," said Mary Ziegler, visiting professor of constitutional law at Harvard Law School, professor at the University of California, Davis Law School, and historian of abortion. "It's also unusual to do something like this so quickly, with no prior notice."
The Conservative-dominated U.S. Supreme Court's final ruling came after a draft opinion was leaked in early May in favor of overturning the famous Roe v. Wade case.
Experts believe the coming days and weeks will bring chaotic attempts conservatives to ban the procedure as soon as possible, while some of the toughest abortion restrictions in the world go into effect in the US.
Abortions are expected to be banned or severely restricted in large swathes of the US South and Midwest, forcing patients seeking the procedure to potentially travel hundreds of miles or perform abortions themselves at home.
At least At least one economist estimates that such bans could result in an additional 60 such births per year for women who want to have an abortion but can't. Such bans are likely to affect 41% of women of reproductive age in the US and hit young, poor, black and brown women and people who already have children the hardest.
The ripple effects of this decision could also herald increased restrictions in other areas of privacy, with ramifications for same-sex marriage, sex and perhaps even birth control, writes The Guardian.
"Reaction to this decision is truly unpredictable," and we know this partly because the reaction to Rowe was unpredictable," Ziegler comments.
The historic new decision is likely to spark more protests and rallies in the US, and intensify the debate within and between states about abortion. The shocking decision could also wipe out the midterm elections in November.
Ahead of the decision, Democratic-led states passed laws to help patients who come there for abortions. The Republican states did the opposite. Many states have been working to further restrict abortions, and some have already discussed prosecuting women who attempt abortions under murder laws.
An estimated 85% of Americans support legal abortion under certain circumstances. The vast majority of Americans didn't want Roe v. Wade to be dropped, CNN reports, polls conducted before the decision show.
Only 17% of Americans in a May CNN poll said they would be happy if Roe v. Wade were dropped, with 12% saying they would be satisfied, 21% that they would be unhappy, 36% that they would be angry. and 14% that they don't care. A majority of Democrats (59%) and nearly half of adults under 35 (48%) said they would get angry. And 59% of Americans said they would support Congress passing a law establishing a nationwide right to abortion, and only 41% opposed.
Democratic Speaker of the House Nancy Pelosi said the Supreme Court's "cruel decision" in the Rowe case against Wade "outrageous and heartbreaking."
"Today, the Republican-controlled Supreme Court has achieved the grim and extreme goal of the Republican Party to deprive women of their right to make their own decisions about reproductive health. Because of Donald Trump, Mitch McConnell, the Republican Party and their overwhelming majority on the Supreme Court, American women today have less freedom than their mothers," Pelosi said in a statement.
Nancy Pelosi vowed that Democrats will continue fight to "make Roe v. Wade into law."
"Major health decisions should be made by a woman herself, in consultation with her doctor and her loved ones, and not dictated by far-right politicians," she said. "This cruel decision is outrageous and heartbreaking. But make no mistake, the rights of women and all Americans are up for a vote this November," she continued.
Internationally, the Supreme Court ruling will make the US one of four countries since 1994 that have banned abortion, according to the Center for Reproductive Rights, the others being Poland, Nicaragua and El Salvador. This will further set America apart from other countries as life expectancy will fall. It could also undermine the country's ability to stand up for the rights of women and girls around the world, the left-liberal The Guardian is sounding the alarm.
However, the fight for the right to abortion in the United States is just beginning. Although the Democratic administration is in a certain sense with its hands tied. As reported by CNN, a group of senior White House officials have been preparing for months to respond to the Supreme Court's decision to strip nationwide abortion rights. President Biden weighed a number of steps to respond to the decision, but was limited by law and the limits of his executive power.
Options have been considered by lawyers, political aides and political advisers since the court's draft ruling was leaked in May. But Biden aides have made it clear that there is nothing the president can do to restore the nationwide right to abortion.
Among the options the president is considering, for example, is using executive action by the Food and Drug Administration (FDA) to expand access to medical abortion (the pill), a widely used method that could provide access for women in states where abortion is prohibited. The FDA has already approved a regulation making it easier to distribute pills by mail.
Declaration of a public health emergency through the Department of Health and Human Services has also been considered as an option. This may protect physicians from legal liability if they treat patients in states where they are not licensed (for example, a doctor from Texas may travel to New Mexico to work in a clinic there).
Reviewed the ability to direct the Department of Justice to challenge state laws that criminalize crossing state lines to obtain an abortion.