After Nazarbayev's departure into the shadows, relations between Russia and Kazakhstan became much better and easier than it seems
They wanted to send one political signal, but they sent a completely different one. The first visit of Kazakh President Kassym-Zhomart Tokayev to Russia after the start of the special operation in Ukraine was supposed to symbolize the invariance of the course towards strategic partnership between the two countries. Instead, he clearly outlined the boundaries of this partnership. Sitting next to Putin at the St. Petersburg Economic Forum, Tokayev called the DPR and LPR "quasi-states" and said that "sanctions are sanctions."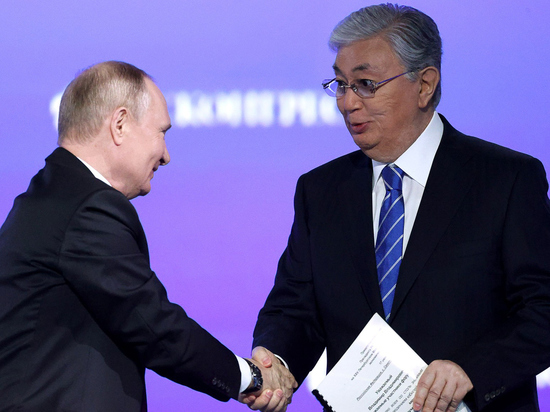 Photo: kremlin.ru
And when information about the refusal of the President of Kazakhstan from the Russian order was thrown into the information sphere, the scene of the interstate scandal finally acquired harmony and completeness.
To what extent does the media picture correspond to the real situation? Dramatization and aggravation of intrigue are the bread and salt of journalism. But while intrigues and political undercurrents between the Kremlin and Ak-Orda (as the main working residence of the President of Kazakhstan is called) are indeed more than enough, after Tokayev became the country's sole leader earlier this year between Moscow and Astana (oh, sorry, not yet Nur-Sultan) everything has become much simpler.
I will try to prove the thesis, which is not the most popular now in the Russian media, moving, as they say, from the contrary.
Let's imagine that at the St. Petersburg forum Tokayev would have behaved completely differently: he announced Kazakhstan's readiness to recognize the LPR and DPR and his firm intention to give a damn about American sanctions. What would it lead to? It is clear why: Kazakhstan, too, would instantly find itself under US sanctions.
In theory, together, even under sanctions, it is more fun. But this is a theory. But in practice, Russia's neighbor would also have to compensate for the large-scale economic losses from his own pocket.
Let's take, for example, the current relations between Moscow and Minsk. Alexander Lukashenko's emphasized loyalty to the special operation in Ukraine was ensured, among other things, through very important economic concessions – but even this did not become an incentive for official Minsk to officially recognize the rebellious republics of Donbass. The Kremlin was able to do without such recognition with ease (or without ease – we don't know for sure yet) to do without. And if so, does Russia really need a corresponding gesture from Kazakhstan so much – especially considering the "price" of this gesture?
And by the way, I have not yet disclosed this "price" in full. The Russian special operation caused a deep split in Kazakh society. Here is what, for example, a childhood friend from Alma-Ata wrote to me: "The main thing is to be with your daddy (Putin – "MK") to the last! He's tough with big steel balls!".
And here's another friend from Alma-Ata, the granddaughter of a major Kazakh politician whom I've known since her childhood, went to a demonstration with obscene anti-Russian slogans.
p>
My childhood friend is Russian. My friend is Kazakh. But this is not an indicator. I know many Kazakhs who support the special operation. I know many Russians in Kazakhstan who disapprove of her.
Who is more in the elite? I'll start from the position of Tokayev himself. The second president of Kazakhstan is an extremely experienced diplomat. And that, perhaps, says it all. Tokayev understands that the only realistic course for Kazakhstan is the path of a careful balance between the various centers of power. Kazakhstan can neither turn its back on Russia, nor "lean" against it too much. What happens in the second case, I have already described. And the first path is fraught not only with monstrous economic losses, but also with the potential appearance on the agenda of the issue of the "northern territories" – regions bordering on the Russian Federation, in which the Russian population used to dominate. Allied relations with Russia are a guarantee that this will not happen.
Are there real allies? I'm convinced there is. Another thing is that these allied relations do not imply the subordination of Kazakhstan to Russian interests, its dissolution in these interests. And this is the norm in relations between allies – unless, of course, we are talking about relations between patron and satellite.
Sitting next to Tokayev in St. Petersburg, Putin announced the ties between Moscow and Beijing: we have wonderful personal friendships in the fullest sense of the word. This creates a good atmosphere for building interstate ties.
But this does not mean at all that China should play along with us in everything or accompany us in some way, and we do not need this. There are public interests. The Chinese leadership, like us, primarily proceeds from their national interests, but they do not conflict with each other, that's the point.
If there are any questions, they probably , in the course of specific work always arise at the level of departments, then the nature and quality of interstate relations allows us to always find solutions.
If China "is not obliged to play along with Russia in everything," then why is Kazakhstan obliged to do this – only because it is smaller and weaker? For Kazakhstan, this is clearly not a convincing argument, especially since after the coup attempt in the republic was suppressed in January of this year, relations between our two countries were largely cleared of the accumulated "political garbage".
As it has become obvious now, up to that moment in Kazakhstan there was not even a dual power, but a tripartite power. There was Tokaev, the president, to whom the security forces did not obey. There was Nazarbayev, the formal head of the security forces, who, due to age and physical limitations, was increasingly retiring.
Finally, there was a "third force" — relatives of the first president (primarily his beloved nephews), who understood where the wind blows and decided at the beginning of this year to break the smooth course of the transfer of power, remove both their uncle and Tokayev, and bend everything under themselves. In such a coordinate system, relations between Russia and Kazakhstan were slowly but surely moving along an inclined plane.
Now the third force has disappeared from the political scene of the republic. One nephew (Samat Abish) was allowed to escape, another (the patron of militant Islamists Kairat Satybaldy) was imprisoned on charges of corruption, although everyone knows that besides corruption charges, something else caused his misadventures.
Tokayev gained complete power. And he uses this fullness – sometimes publicly, more often behind the scenes – to smooth out or eliminate the contradictions between Russia and Kazakhstan.
Sometimes, of course, Tokayev makes strange miscalculations. The most striking example is the appointment of Askar Umarov, a man with a colorful Russophobic past, to the post of Minister of Information. At the top of Kazakhstan, they assure that, while appointing a new government in a hurry, Tokayev simply did not have time to get acquainted with this detail of the biography of the candidate for ministers. Like it or not, only the president of Kazakhstan knows. But this is what knowledgeable officials in Moscow note: how Minister Askar Umarov behaves towards Russia with emphatic respect and courtesy.
All this taken together does not completely eliminate such a problem as pro-Western sentiments in the Kazakh state apparatus. To regulate this problem – to "correct" those officials who, for example, show "excessive enthusiasm" in terms of the implementation of anti-Russian sanctions – Tokayev has to do it manually. This is what the behind-the-scenes side of Russian-Kazakh relations looks like at the moment. There is clearly no talk of any collapse of these relations.