Kazakhstanis engaged in the search for missing relatives: 106 applications
Alma-Ata police said that 22 people disappeared during the riots in the city, of which 15 people have already been found. This information is very different from the data of voluntary search teams, where more than 100 missing citizens of Kazakhstan are reported. Dozens more of the wounded were abducted by unknown people directly from hospitals. As MK managed to find out, they are transported directly from intensive care to correctional facilities.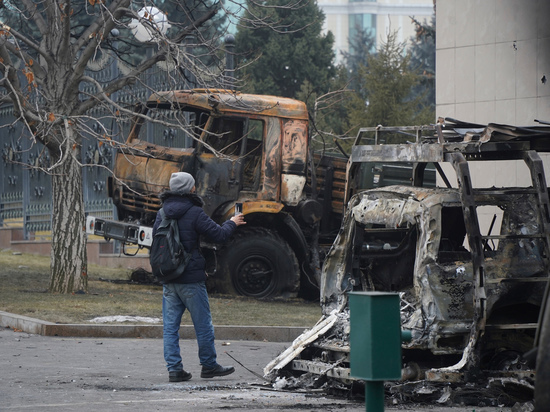 Photo: AP
"Since January 6, we have received 106 applications. Of course, this is a lot. Now we do not go anywhere, but are engaged in ringing morgues, hospitals and the police. Most of the missing are either detained or in the morgue, we find someone in hospitals. Then we pass this information on to relatives, and they go to the place to determine whether this person is their relative," Lider.Kz volunteer organization explained to MK.
At this time, missing persons groups and local media are full of reports of missing people. "Anatoly Akhmetov was wounded during the rallies on January 6, he ended up in the 5th city hospital in Alma-Ata. From there he was taken by unknown people. His wife and son are looking for him. He worked in one of the fashionable restaurants in Almaty as a cook," one such statement reads. We have already written about the disappearance of a man.
"MK" again contacted his wife Batysh Akhmetova: "Today they found him in correctional facility No. 18. We went there several times, and today we were given his last name. They do not give any data, what they are holding for – it is not clear. The name of the investigator in charge of the case was not released. He had a gunshot wound to the jaw. The doctors only had time to pull out the bullet and sew it up. As the bones were crushed, so it remained. In what state he is, how he is – they do not say anything. They didn't even let me hand over my things, as I was in only tights, they took me away."
– They said that they would provide a lawyer from the state. We went to the Police Department, but they don't give us any information either. They didn't even let us in, they didn't answer questions. They just said, "Go." And that's it. The most important thing is that they do not give him a term, do not condemn him. This is an absolutely innocent person.
– Yes, at the age of 21 he graduated from a technical university, and then got a job in a restaurant. At work, they also said that they were shocked by his detention and were ready to give him a positive response. We have a 5 year old son. There has never been any aggression on his part towards people. He is very calm. I have never participated in looting in my life, and terrorist actions are generally beyond the bounds.
– At eight in the evening he told me that he would go with friends in the yard and stand. And then I called and could not get through. Around 12 at night, I dialed again and the nurse answered me. So we learned that he was in intensive care. I was afraid to leave immediately, because there were riots on the street, shooting everywhere, I came to him only in the morning.
They didn't let me go to the intensive care unit, but the doctors said that his condition was serious, but stable. For three days he lay in the hospital, he could not get up, he just lay. And then unknown people arrived, hit him on the head and took him away. Only five days later we found him. Thank God that at least he is alive.
– I do not work for health reasons, I sit at home. He is our only breadwinner. I don't know what will happen next.
New footage of the destroyed Alma-Ata after the riot in Kazakhstan has appeared
See related photo gallery