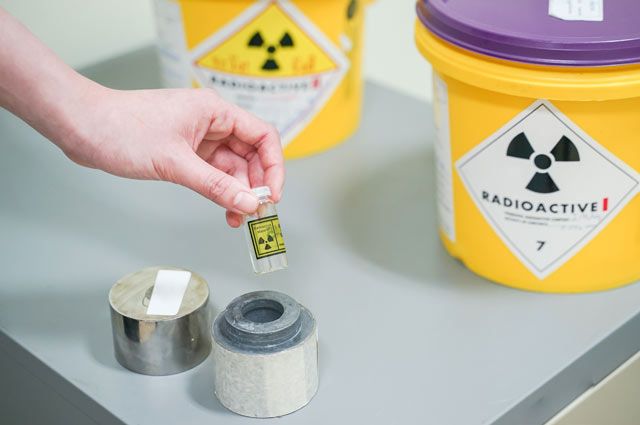 JSC «SSC RF — FEI» (part of the scientific division of the State Corporation "Rosatom" – JSC "Science and Innovations") since the beginning of 2022 has delivered to Russian clinics more than 12 thousand microsources of iodine-125 used for brachytherapy of a malignant tumor of the prostate gland.
Production of microsources is fully import-independent and certified. At the same time, the institute's product is no different from foreign analogues in quality and costs half as much.
"Thanks to the use of domestic developments, our health care receives significant money savings and the opportunity to increase the number of cured people, as well as continue scientific work and research. In "SSC RF— FEI" an original technology was developed for manufacturing capsules and uniform application of the iodine-125 isotope on the silver substrate of the microsource, which makes it possible to create a uniform distribution of the dose field over the surface of the strand. The capacity of the line for the production of microsources in strands is up to 50 thousand per year, — Head of the Research and Production Complex of Isotopes and Radiopharmaceuticals of JSC «SSC RF—IPPE» Maxim Samsonov.
Socially significant medicines
Brachytherapy for prostate cancer — contact radiation therapy, in which temporary or permanent installation of a radioactive microsource of radiation directly into the tissue affected by the tumor is carried out. Radiation occurs directly in the tumor with minimal damage to adjacent organs and tissues of the patient.
JSC «SSC RF — FEI» produces and supplies to the market about 30 different types of radioisotope products. These are medical equipment products, sources of ionizing radiation and radioactive isotopes in the form of raw materials. Among the most socially significant projects of the research and production complex of isotopes and radiopharmaceuticals of IPPE — production of ophthalmic applicators based on ruthenium-106 and strontium-90 radionuclides used for the treatment of oncological diseases of the eyes and the periocular region; rhenium-188 generator GREN-1 for repeated production of a sterile pyrogen-free solution with rhenium-188 radionuclide used for the treatment of oncological and non-oncological diseases with simultaneous visualization of the distribution of the drug in the human body. In addition, IPPE — the only supplier of actinium-225 in Russia and one of the three in the world, which is currently considered one of the most promising radionuclides for the treatment of a number of oncological diseases, since it ensures the destruction of tumor cells without damaging surrounding organs.
Rate the material