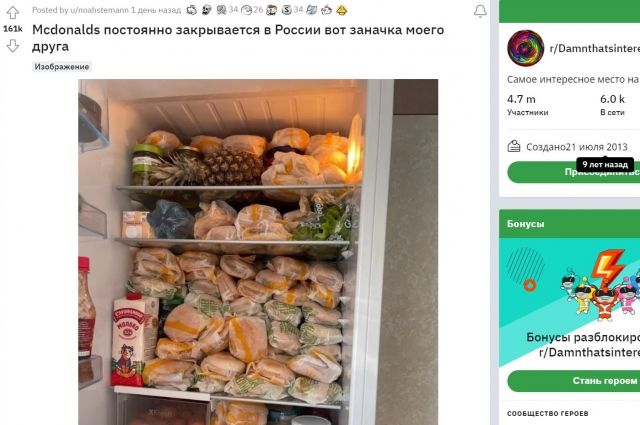 Fetish with the letter "M"
After the statements of Western companies about the suspension of work in Russia, ad sites began to sell food from McDonald's, things from Ikea and other products from outgoing brands. Judging by the prices, both jokers and very greedy people got down to business.
Due to the events in Ukraine, many Western brands hastened to announce the suspension of their activities in our country. While some people are making predictions about when companies left without a significant part of the profits may try to return to work, others are seizing the moment. Some Russians have rushed to buy disappearing goods, not only for themselves, but also for resale. This is evidenced by the wave of specific offers that began to appear on classifieds sites. At the epicenter of this consumer frenzy is McDonald's, which has repeatedly reflected in the history of turning political events.
Interestingly, our attitude towards this American fast food chain has changed from unbridled joy in the early 90s to mass protests at the end of the same decade due to the war in Yugoslavia. But this time, people decided to cash in on the fans of everything with McDonald's symbols. Ad sites began to sell almost all types of products from the chain's assortment from burgers to packages of sauce. A vivid illustration of the underside of this new business was a photo from a Reddit user who filmed a home refrigerator full of burgers. It is clear that the period of trade in them is limited, even taking into account the fact that food from McDonald's does not lose its presentation for a surprisingly long time and without special storage conditions.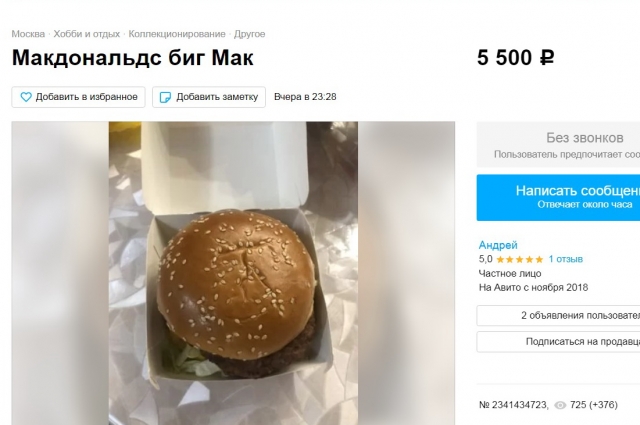 Burger for 5500 rubles. Screenshot
The same burgers and pies on ad sites offer to buy about 5 thousand rubles apiece, but there are not very many such offers. More often, inedible goods with the letter "M" are put up for sale at a high price. For example, 500 rubles are asked for one wet wipe with branding. For about the same price, you can find some glasses, paper bags, packages, but the appetites of most sellers are much higher. Other people are trying to sell the same items for tens and even hundreds of thousands of rubles. You can also find the uniforms of McDonald's employees on sale. One girl from Moscow offered such uniforms for 30 thousand rubles, although you can find cheaper ones.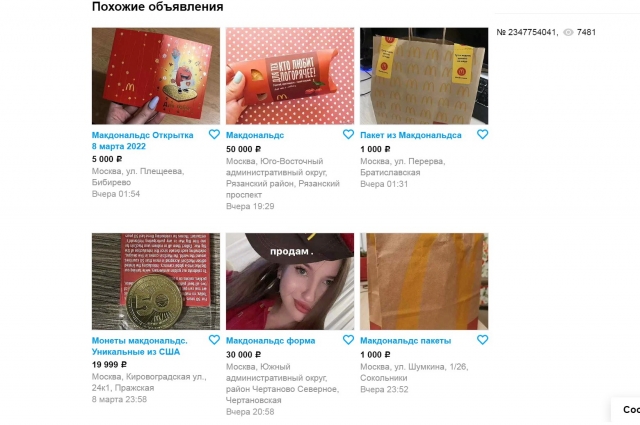 Advertisements for the sale of all sorts of things with the symbols of "McDonald's". Screenshot
Smelly humor
But while some seriously expect to cut down as much money as possible on the actions of McDonald's, others in such ads are more likely to give vent to their sense of humor and attitude to the madness that is happening. On the one hand, this is indicated by prices. For example, some person asked as much as 3 million rubles for an empty food package, while specifying its condition — boo. Another citizen expects to help out for the paper leftovers from the American-style meal "total" 25 thousand rubles, but he was able to stand out with an ironic text:
"Whole boxes with traces of food eaten will remind you of the taste of your favorite burgers in the old days. True connoisseurs will not remain indifferent when they see ketchup on the package — this pleasant product brought pleasure to its owner! And he will not leave you indifferent, fill your home with the aroma of prosperity and satiety. The set also includes bags so that you can take the set with you and show it to your friends, all the attention of others will be riveted on you! Hurry, stock is limited!"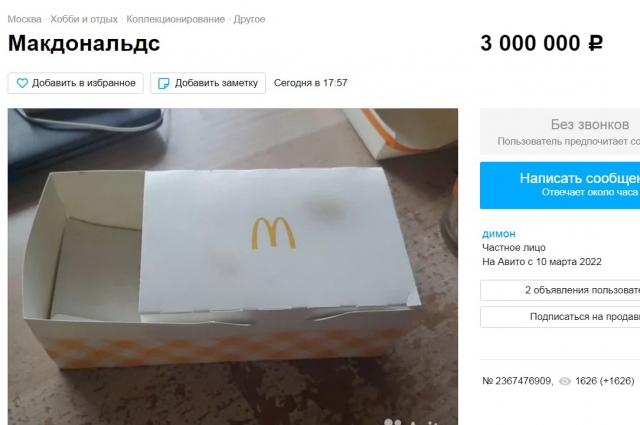 An empty box for 3 million rubles. Screenshot
Some people, in their half-joking ads, are also reminded of the ups and downs with foreign money due to anti-Russian sanctions. Indicating the price in rubles, in the description they offer to pay for the goods in dollars or euros. No less amusing that all this madness raised the quotes of the souvenir "currency" the fast food chain itself. We are talking about coins (tokens) minted in honor of the 30th anniversary of McDonald's in Russia. They are sold for tens of thousands of rubles, and one person decided not to waste time on trifles and immediately asked for a quarter of a million.
The dialogue on the topic of such ads, which appeared in the comments on one of the sites, is very indicative:
< p>"Yeah, it's just a joke. I also exhibited a free package from Auchan for 1000 rub. No one is buying these stupid listings, — wrote user Photuum.
"You have a joke, and a dozen more have a real hope for free money on some idiot," — "Democratic Southerner" answered him.
Sales sharks
Now, ad sites are massively putting up for sale the products of many other brands that have announced that they have stopped their work in Russia. These products include clothing, furniture, appliances and more. But on all this, speculators actively tried to make money before, albeit on a smaller scale.
After the announcement of the temporary closure of IKEA stores in Russia The Internet was flooded with advertisements for the sale of Blohey sharks. The cost of such plush predators starts from 750 rubles, which was before, but the price limit has now practically disappeared. Many would like to help out tens and hundreds of thousands of rubles for a simple toy, but there are even seven-figure sums. One resident of Moscow put up for sale an IKEA shark for 3 million rubles, another Russian would like to get all 10 million for it. And the Sochi resident went furthest selling a shark for 100 million rubles. At the same time, the most creative citizens try to justify their exorbitant prices.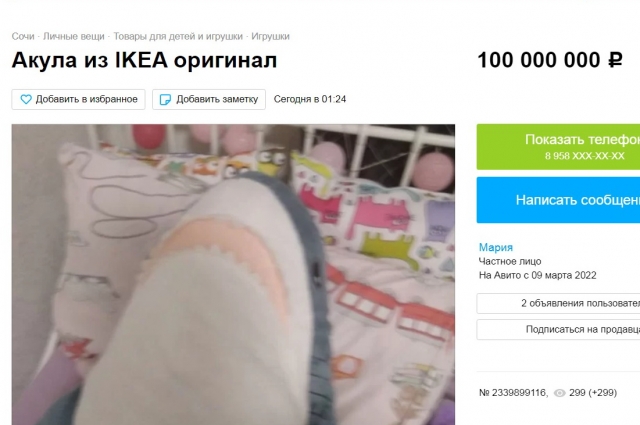 Shark Blohay from Ikea for 100 million rubles. Screenshot
«I am selling a shark. The condition is perfect. Sanctioned item. The price soared after the sanctions and the withdrawal of IKEA from the Russian market. In the daytime with fire you will not find. The price is valid for a week — it will only get more expensive, — said one of the sellers. And another wrote that he wanted to get the missing amount for an apartment with the help of a shark or was ready to exchange it for a studio in the city center. It is difficult to judge how briskly the trade in such goods is going on the Internet. But, most likely, few will be able to really earn something.