The Ukrainian Parliament has called for sanctions against Patriarch Kirill, and the Ukrainian Orthodox Church has declared independence from the Russian Orthodox Church. What are the Orthodox Churches of Ukraine in RBC infographic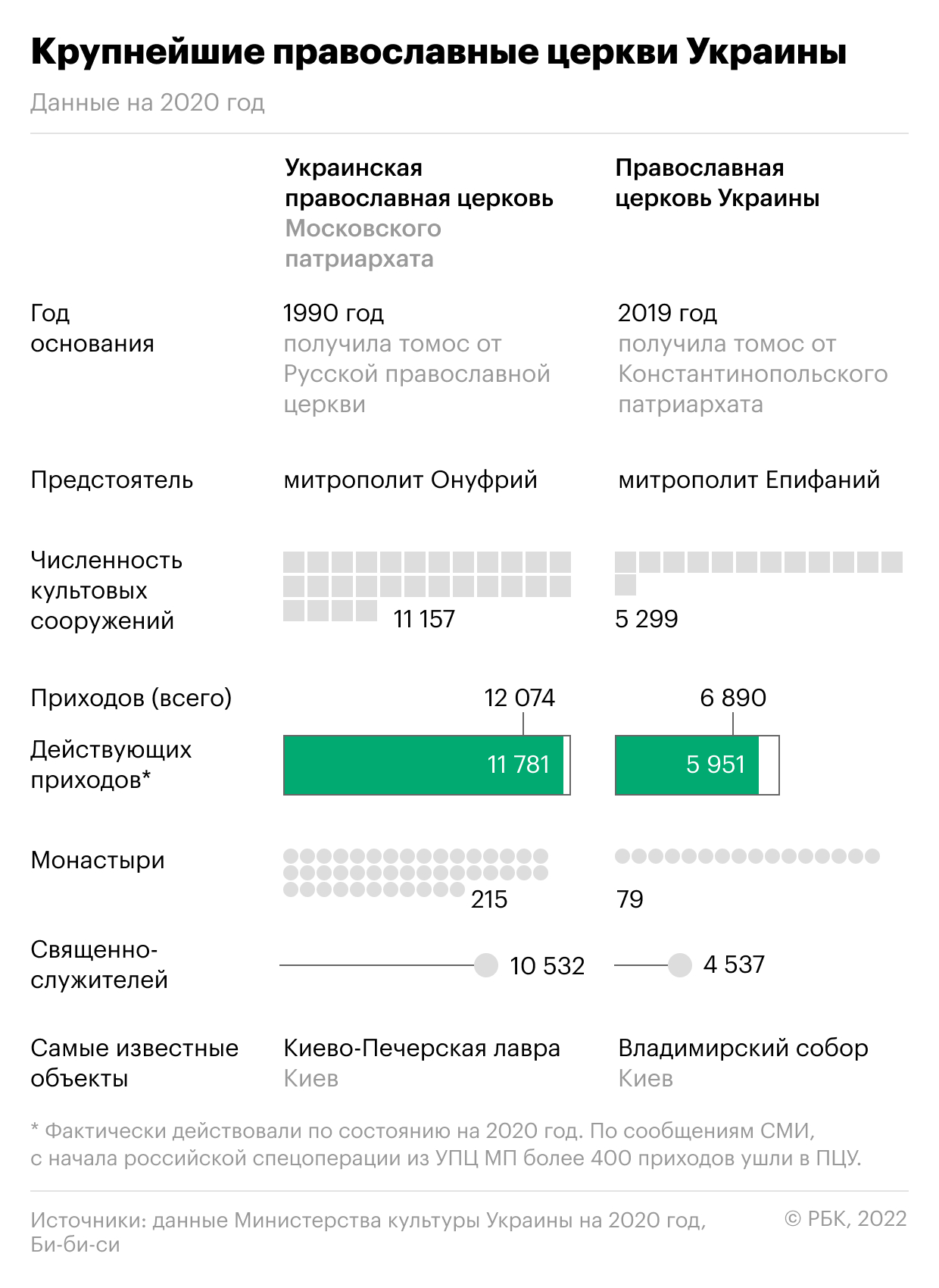 Since the beginning of the Russian special operation in Ukraine, one of the topics discussed has been the situation of the Ukrainian Orthodox Church (Moscow Patriarchate), which still remains the largest in the country in terms of the number of places of worship and parishes. The position of the church began to weaken after the annexation of Crimea, in 2018 in Ukraine the process of forming the autocephalous Orthodox Church of Ukraine (OCU; it included the Ukrainian Orthodox Church of the Kyiv Patriarchate and the Ukrainian Autocephalous Orthodox Church) began, and in early 2019 the new church received a tomos from the Patriarch of Constantinople Bartholomew, which gave rise to a split between the Russian Orthodox Church and the Patriarchate of Constantinople. Then the process of transition of the parishes of the UOC-MP and their entry into the new church began.
From the beginning of the special operation, according to the BBC, this process continued— Up to 400 parishes could already go to the OCU, and Ukrainian legislators began to discuss sanctions against the hierarchs of the Russian Orthodox Church. The UOC and the ROC also differed in their assessments of the events taking place. The Kyiv Church condemned the position of the Russian Orthodox Church and Patriarch Kirill, calling the hostilities "the sin of Cain".
On May 31, Parliament supported an appeal to the National Security Council with a proposal to impose sanctions against Patriarch Kirill and other high-ranking representatives of the Russian Orthodox Church. The list of restrictive measures they propose consists of 19 items, including blocking assets, restricting trade operations, banning "the use of the radio frequency resource of Ukraine", limiting the issuance of cash on payment cards, stopping cultural exchanges and scientific cooperation, denial of visas, cancellation of official visits, deprivation of state awards.
How exactly these sanctions will affect the position of the Ukrainian Orthodox Church is still unknown. In 2019, when during the Ukrainian public discussion the possibility of seizing the property of the church, including the famous lavra & mdash; Kiev-Pechersk and Pochaev, RBC found out that most of these objects are state-owned by Ukraine, and the churches are transferred under contracts for use.
Authors Tags Subscribe to RuTube RBC Live broadcasts, videos and recordings of broadcasts on our RuTube channel