Viktor Orban and Aleksander Vučić, who hold a special position on the Ukrainian crisis, have a good chance to remain in power
Elections began in two European countries on Sunday, the results of which will determine not only the domestic policy of Hungary and Serbia, but also the relationship of Budapest and Belgrade to Moscow. The fact that the vote is taking place against the backdrop of the Ukrainian crisis only increases tension and raises the question of whether the Hungarians and Serbs will be able to continue balancing between Russia and the European Union in the future.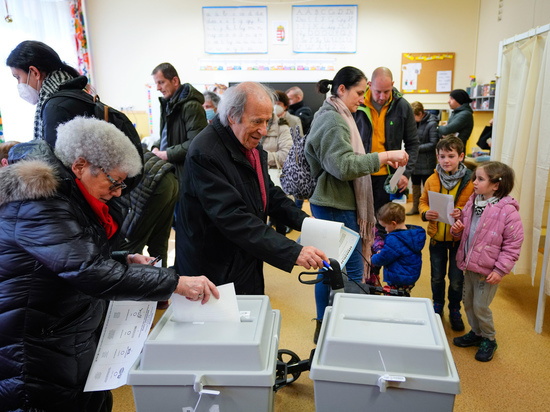 Photo: AP
Hungarian Prime Minister Viktor Orban on Friday, during his last pre-election rally before the vote, urged his compatriots not to experiment with the new leadership during the crisis.
In power since 2010, Orbán has told his supporters that only his government can ensure Hungary's security, arguing that the opposition will drag the country into a military confrontation. According to him, the armed conflict in Ukraine "changed everything, it also changed our campaign."
In his campaign address, Orban presented himself as a reliable leader at a troubled time for the region. "We have already seen several crises, — said the head of the Hungarian government. – I suggest to the Hungarians not to experiment now. And he added that the country would be better off with people with experience and predictability.
As POLITICO notes, although Orban's Fidesz party leads in the polls, the opposition assures that the electoral system is unfair, and the Hungarian prime minister himself has faced criticism from Ukrainian President Volodymyr Zelensky.
In recent years, Viktor Orban has enjoyed a reputation as a leader who maintains a close relationship with Russian President Vladimir Putin while maintaining a rocky relationship with neighboring Ukraine. But when Russia launched a special military operation in Ukraine weeks before the Hungarian elections, the prime minister turned around, sending a signal to voters that it was in Budapest's interest to be neither pro-Ukrainian nor pro-Russian.
"Ukrainians cannot ask us for help in such a way that in the meantime we are ruined, & raquo;, — Orban said. And although he told Kiev "Our heart is with them," he added that "Hungary must defend its interests and must remain on the sidelines." from conflict.
Ahead of the election, Viktor Orban accused the Hungarian opposition of making a deal with the Ukrainian government, as well as being ready to provide Kiev with weapons and support sanctions on energy imports from Russia if they come to power. However, the opposition dismissed the allegations as "propaganda."
According to a POLITICO poll, Fidesz gaining 50 percent of the vote, while the opposition is gaining 44 percent.
Ahead of the vote, Prime Minister Orban also mentioned a referendum to be held in parallel with the elections, which the government is promoting as child-friendly, but which critics say is fueling the flames of homophobia in Hungary.
"We also should clearly say on Sunday: mother — woman, father — man — and leave our children alone", — Orban said, adding that "gender madness" should be stopped.
Meanwhile, opposition politicians have urged their supporters not to lose hope despite what they call an uneven playing field. Ahead of the vote, writes POLITICO, both sides accused each other of fraud, with Orban's opponents expressing concern, in particular, over a report that said some ballots filled out by Hungarian-speaking residents of Romania were found in a landfill.
Peter Markey-Zai, the opposition candidate for prime minister, called the race a battle between David and Goliath, pointing to a scam, an "army of paid trolls," a "propaganda machine" and "unlimited financial resources."
Hungary's neighbor Serbia holds presidential elections on Sunday. And as POLITICO notes, "there is no doubt who will win." — namely the incumbent President Aleksandar Vučić. But one big question looms over the Balkan country: will Vučić be able to maintain friendly relations with both Moscow and the EU after the outbreak of the military conflict in Ukraine?
The poll shows that Vučić and his Serbian Progressive Party (SNS) are dozens of percentage points ahead of their rivals, despite the fact that the country holds presidential, parliamentary and municipal elections on the same day.
Vučić has been the dominant political figure in Serbia for the past decade. During this time, he was increasingly accused of autocratic rule, fueled by government-friendly media and widespread nepotism, POLITICO claims. But while his prowess on the domestic political scene is close to absolute, Vučić finds himself in an extremely uncomfortable position on the international stage due to Russia's military operation in Ukraine.
Throughout his time in office, Vučić maintained close ties with both the EU and Russia, changing his allegiance between the two whenever he saw an opportunity to gain greater benefit and support for Serbia. Now he is under pressure to choose a side, writes POLITICO.
Initially silent on the Ukraine crisis, Belgrade ended up backing a UN resolution condemning Russia's actions but refusing to join Western sanctions against the Kremlin. The EU has made it clear that it expects membership candidates such as Serbia to follow Brussels' unified line on sanctions and foreign policy in general. How Vucic navigates this geopolitical landscape will be the defining challenge of his upcoming term.
As POLITICO notes, Belgrade's close ties to Moscow are often mistaken for evidence of staunch Russophilia among the Serbian political class and society at large: "But the truth is much more pragmatic: Serbia is almost entirely dependent on Russian gas, which it receives at a special low price. Ardent pro-Russian supporters — a vocal minority that receives disproportionate media coverage.
This is reflected in a study published earlier this week by the Belgrade polling agency Demostat. When asked whether Serbia should side with Russia or the EU in the Ukraine crisis, 50 percent of respondents said the country should remain neutral even if such a stance would lead to sanctions and shortages of goods on a scale similar to those experienced during the Balkan wars in 1990s. Only 21 and 13 percent supported Russia or Europe, respectively.
Demostat lead researcher Srečko Mihailović said this preference for neutrality reflects a deeply rooted long-term trend dating back to Yugoslav leadership in the Non-Aligned Movement during the Cold War. "The concept of neutrality and bloc non-alignment remains in the minds of Serbian citizens, regardless of everything that has happened during this time, — Mikhailovich said. – A significant number have always maintained neutrality, regardless of the consequences.
Nevertheless, acknowledges POLITICO, it remains an open question whether Vučić really wants to fully accept the position of the EU and the West. Brussels can check its readiness in two ways — by offering Serbia more incentives to make progress in its long-standing EU membership talks and by providing support that reduces energy dependence on Russia. Earlier this month, the EU took steps in the latter direction by offering Western Balkan states the opportunity to join its voluntary joint purchases of liquefied natural gas.