Europe is on the brink of economic war
Economic war has a beginning, but it has no end. Sanctions may soon fall on those who impose sanctions – on the part of those to whom these sanctions do not seem tough enough. In any case, the British The Telegraph calls for this. "If Germany does not stop buying Russian gas, it will also face sanctions," reads the title of the corresponding publication. Now for the details.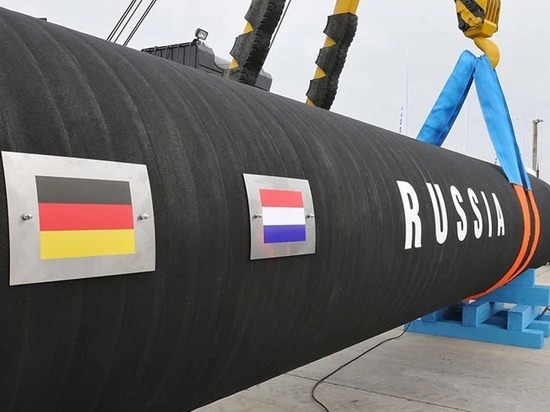 "Gas is flowing through European pipelines as if nothing had happened," indignant author, writer, publisher and financial journalist Matthew Lynn. "And oil is still regularly delivered to refineries. And every day 800 million euros are sent straight to Moscow. Germany and , to a lesser extent, Italy is considered to be financing Putin's brutal campaign in Ukraine."
Germany is making some efforts to gradually reduce dependence on Russian energy carriers, admits Lynn. But they seem to the British absolutely insufficient. The Federal Republic must get rid of gas from Russia immediately, despite all the economic and social costs involved.
Otherwise, the author of the "selfish" Bundesburgers warns, it will be bad: "If the Germans are not ready to make this sacrifice, it's their business. However, there is no reason why the rest of the world should put up with it. The moment for sanctions against Germany has definitely come."
How exactly should Germany be punished? There are different options. We could, for example, "impose temporary duties on German exports and send the money to Ukraine to finance retaliatory hostilities and help millions of refugees," Lynn argues. "We could also impose a six-month ban on German exports and extend it until the end of the conflict or the final closure of gas pipelines. As an option, we can organize a consumer boycott.By buying a new BMW or Volkswagen, motorists indirectly sponsor Putin's army – this is also worth remembering when choosing a car."
There will be no problems with the replacement of German goods, the author is sure: "Of course, Germany is one of the world's leading manufacturers. But we can easily buy cars in France or Japan, and chemicals in South Korea or the USA."
Lynn's column in The Telegraph, of course, did not go unnoticed in the Federal Republic he criticized. But, let's say right away, it did not cause total rejection, condemnation. The reaction, as they say in such cases, was ambiguous. You can even find statements in the spirit of "this is how we should be."
"Are Lynn's demands feasible?" asks philosophically, for example, das Bild, the country's most popular tabloid. "That remains to be seen. But the fact is that even in Germany, many leading economists have long called for a halt to gas supplies from Russia." In confirmation, the opinion of the well-known economic "guru", a member of the expert council for economic development under the German government, Veronica Grimm, is given: "The longer we wait, the worse. The more time we lose, the better Russia will be able to prepare for the embargo."
According to the economist, a gradual reduction in oil and gas supplies from Russia will not give "any sanctions effect." Therefore, "as painful as the supply shutdown is for our economy, if we do not act immediately, it will probably cost us much more in the long run," concludes Veronica Grimm.
However, the leitmotif of the bulk of the responses is rather justifying: they say, we understand everything, but understand us too. "An immediate gas embargo will lead to disruptions and stoppages of production, will result in deindustrialization and long-term loss of jobs," News.de quotes the joint position of the leaders of the Federal Association of German Employers' Associations and the Association of German Trade Unions on this issue. In their opinion, the negative consequences of such a decision would be more serious for Germany than for Russia.
In addition, the captains of the German industry rightly point out that the light on the gas issue has not converged in their country. "Not only Germany would have suffered from such a step (rejection of Russian gas. – A.V.), all of Europe would have had huge problems," says Leonard Birnbaum, head of the energy concern E.ON, in an interview with the business newspaper Handelsblatt.< /p>
As an example, Birnbaum cites Slovakia, which is completely dependent on Russian gas. The Czech Republic and Austria also cover most of their natural gas needs with supplies from Russia. And, accordingly, they cannot refuse them yet.
"This cannot be regarded as a national theme," insists the head of the concern. Chief E.ON speaks with extreme caution. But it reads between the lines: they want to make Germany "extreme" – many countries depend on Russian energy resources, but today only the Germans fall under the fire of criticism.
By the way, Matthew Lynn's article in The Telegraph suffers from the same logical flaw . For some reason, Lynn has nothing against other powers that do not want to urgently impose a ban on Russian energy supplies, including Italy he mentioned, and accordingly does not call for punishing them.
Quite strange in this context The idea of ​​replacing products made in Germany with goods from Japan and South Korea also looks like this. These, after all, are also far from "sinless". Both Far Eastern neighbors of Russia are actively buying oil and "blue fuel" (liquefied natural gas) from it. And so far, as far as is known, they are not going to refuse it.