The EU leadership wants to hide underground from Russian spies
The EU leadership is so frightened by the developments in Ukraine that it is ready to hide underground from the Russians. Literally. According to the Belgian publication Euobserver, Brussels has allocated 8 million euros for the construction of an underground bunker. There should fit up to a hundred people – about thirty leaders of the EU with servants. The facility is said to be designed to prevent Russian spies – and Europeans already see them everywhere – from being able to eavesdrop on the conversations of EU leaders. To do this, the secret dungeon is completely isolated from any electromagnetic pulse radiation leaking back and forth. It will turn off the Internet and make a local connection.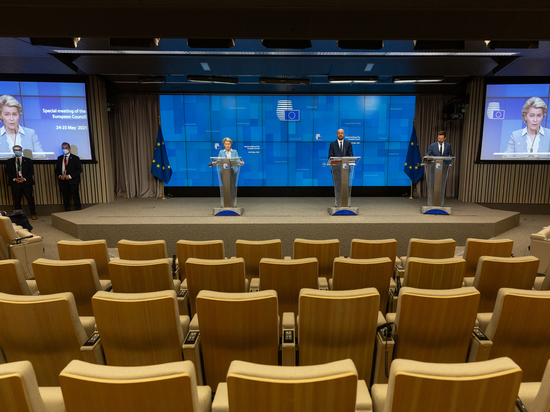 Photo: Global Look Press
Why the European leadership is ready to consider security issues on Earth exclusively underground, "MK" explained military analyst, editor of the magazine "Arsenal of the Fatherland" Alexei Leonkov.< /strong>
– In Europe there is a high degree of hysteria associated with Russia. Especially among those leaders of countries who have recently sponsored Ukraine more actively than others, supplying it with heavy weapons.
– Maybe. But in this case, the bunkers will not save them. Using the example of a number of Ukrainian facilities, we showed the whole world how we can deal with impregnable bomb shelters that were built back in the days of the Cold War. Moreover, in this case we are not even talking about weapons with a nuclear charge. We have conventional means of destruction, such as hypersonic Kinzhal missiles, which can penetrate underground, destroying heavily buried, super-protected concrete bunkers. It is meaningless to refer here to military spies. If we decide that such a bunker should be destroyed, it will be destroyed. Moreover, as soon as they start making it in Brussels, the place of construction, in any case, will immediately become known.
– Of course, there is an opportunity to protect the negotiations by making the so-called "room of silence". Her special equipment to protect against any wiretapping. And you don't need to climb into the bunker for this. If you sort through all this imaginary "impenetrability" of the bunker, it will turn out to make an analogue behind the ground cheaper, easier, and more efficient than equipping expensive concrete dungeons.
-Well, and adding fuel to the fire of European Russophobia. For them, the word "bunker" has always been associated with the concept of "nuclear war". For the last 2-3 weeks in Europe they have only been discussing whether we will start a nuclear war over Ukraine?
-Of course. During the Cold War, this is exactly what happened. As soon as they started talking about some kind of threat from Russia, the demand for bunkers, even for ordinary people, grew exponentially. Some succumbed to hysteria so much that they even jumped out the window, remember? Like US Secretary of Defense James Vincent Forrestal, who threw himself out of a window shouting "The Russians are coming!" Now many there are close to the same. In general, they are interesting guys: first they create a problem, then they heroically overcome it. They themselves invented everything, they themselves got scared, and now, in order to escape, they are building bunkers that will not save them from anything.