U.S. lobby working for Kyiv pushes Washington's policy
Ukrainian President Volodymyr Zelensky's calls to Western countries for more help for his country in confrontation with Russia are attracting the attention of the American public. In the meantime, US media have noted that behind the scenes, a network of PR professionals, lobbyists, and former government officials has built a powerful messaging machine to help drive press coverage and policymaking.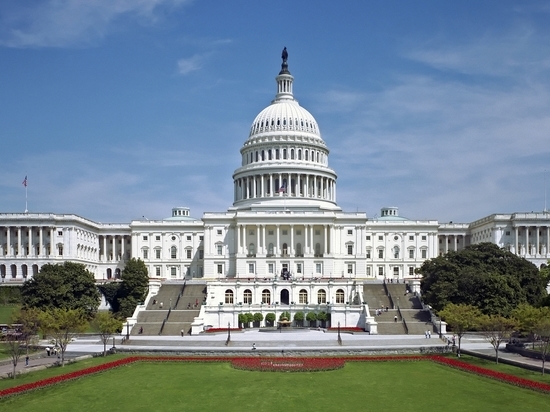 Photo: en.wikipedia.org
Lobbyists, lawyers and public relations specialists have descended on Capitol Hill and the media to push through aid to Ukraine, POLITICO reports. heads the D.C. office of a Ukrainian law firm and served as a "liaison" with the media on behalf of Zelensky.
The White House has taken note of this, with many people with direct knowledge of the matter saying that the administration suspected at times that Mack was the source of the Zelensky stories.
In an interview, Mack claimed that he "never wanted to be in the media. The media were looking for me. Mack is indeed Zelensky's adviser on the country's relations with the United States. For example, during the first impeachment of former President Donald Trump, he advised Zelensky to "try not to get involved in any feuds." In the spring of 2021, Mack was also tasked with implementing a strategy to work together to change the perception of the Russian threat to Ukraine, writes POLITICO.
According to the American publication, Andrew Mack, who registered with the Ministry of Justice as Zelensky's lobbyist in late 2019, stated that he received no compensation for his advisory role. For an American-educated lawyer with degrees from Vanderbilt University and Lehigh University, this is a personal matter. The son of Ukrainians, Mack lived in this country for eight or nine years.
The two reporters confirmed that Mack spoke regularly to reporters in the D.C. area and occasionally helped get high-profile interviews with the Ukrainian president. According to documents filed with the Justice Department, he helped organize Zelenskiy's participation in HBO's Axios show last year. Mack also contributed to Zelenskiy's speech to Congress and arranged interviews with ABC News and NBC News for the Ukrainian president, the sources said.
"The Ukrainian government, Zelensky himself and the people around him are quite sophisticated," — said former U.S. ambassador to Russia Michael McFaul, now a professor at Stanford University who has been in frequent contact with the Zelensky government. "These are people around Mr. Zelensky, who are, as it were, intermediaries and interlocutors. They have been interacting with the American elite and the American media for a long time.
Separately, two firms representing the Ukrainian Association of the Oil and Gas Industry "became de facto emissaries of Ukrainian business," POLITICO writes. According to interviews with staff from both firms, Yorktown Solutions, a lobbying firm headed by Daniel Vaidich, has done extensive outreach on Capitol Hill, while New York-based PR firm KARV Communications has focused on handling press inquiries.
Prior to the conflict, both Yorktown Solutions and KARV Communications received hundreds of thousands and tens of thousands, respectively, for their work on behalf of the Ukrainian Oil and Gas Association, writes POLITICO. Between December 2020 and the end of November 2021, Yorktown reported $960,000 in payments for strategic advisory services. Since September, KARV has reported $119,944 in the Payment of Fees and Cost Per Agreement section. However, both companies have stated that they currently do not charge their customers for their work.
The aforementioned Vaidich said his firm maintains open communication and ongoing dialogue with the Zelenskiy administration, as well as with Andrew Mack, who he claimed was a "presidential adviser" rather than a "lobbyist."
The influence of the two firms appears to have grown, according to Ben Freeman, a fellow at the Quincy Institute for Responsible Public Administration, who is preparing a report on Ukraine's influence operation in the US. As evidence of this influence, members of Congress are now echoing the messages of the Ukrainian lobby, Freeman says. He added that the Ukrainian lobby often used the phrase "Putin's weapon"; to describe Nord Stream 2.
Vaidich argued that his firm still insisted on expanding security assistance to Ukraine beyond the Stingers; and Javelins, as well as secondary sanctions against Russian financial institutions.
The Ukrainian PR network has covered Washington and beyond, says POLITICO. Zelenskiy held a strategic video call with McFaul about his country's needs ahead of the former ambassador's House Democrats speech. The administration has sanctioned the company behind the Nord Stream 2 gas pipeline and banned oil and gas imports from Russia at the request of Ukrainian oil and gas lobbyists. The British Embassy in the USA served the Ukrainian Embassy.
"We have moved from energy security to security, — said Vaidich, a former Senate foreign affairs officer and campaign foreign policy adviser to Republican Senators Ted Cruz of Texas and Mitt Romney of Utah. – It's around the clock, even when we're sleeping, the phone is on and there are phone calls from Kyiv and there are phone calls from others here in Washington, both in government and outside… We are talking to the administration. We're talking to Capitol Hill. Of course, we also communicate with the media.
"The rapid success in pushing additional military aid amid high media coverage shows that even Washington's most derided industry — lobbying — can go out into the sunlight when the whole city unites around one goal, & ndash; writes POLITICO.
Portland, a strategic communications agency that also represents the government of Qatar, said it helps "representatives of Ukrainian civil society connect with politicians and the media," according to the outlet. A Maryland lawyer named Lukas Jan Kaczmarek registered with the Justice Department to purchase equipment and supplies for the Ukrainian Defense Ministry.
In addition to official lobbyists or communications specialists, the Zelenskiy administration has also spoken to former government officials who are in touch with the Biden administration. These include Michael McFaul and former U.S. Ambassador to Ukraine John E. Herbst, POLITICO claims.
"There is, I would say, a fairly dense network of former government officials interacting with Ukrainians who, in turn, trying to interact with US government officials, », — said Michael McFaul.
McFaul, a former Obama administration official and NBC News analyst, said he spoke frequently with the Ukrainian government, "probably every day," and helped them connect with NBC or MSNBC producers. He also communicates regularly with senior administration officials, writes POLITICO.