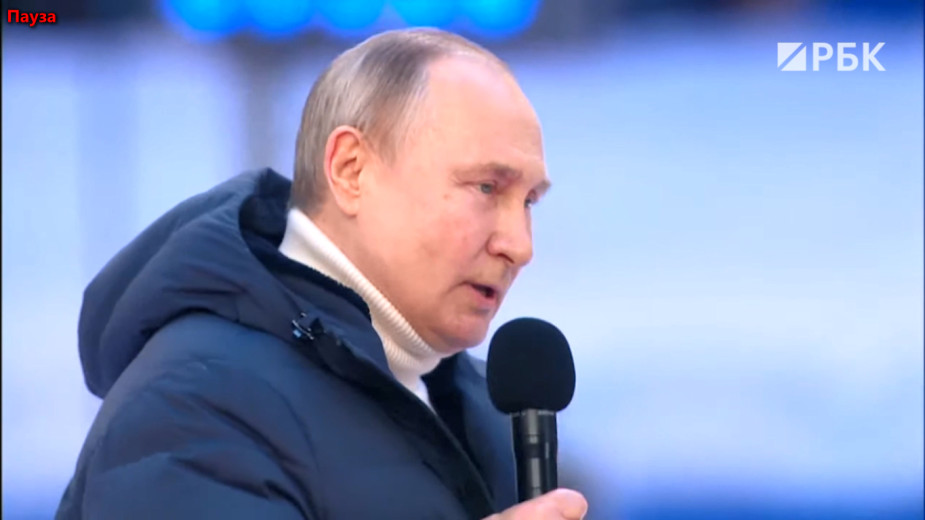 Video
Broadcast of Vladimir Putin's speech at a concert in honor of the anniversary of the annexation of Crimea in Luzhniki was interrupted due to a failure, said RIA Novosti Presidential Press Secretary Dmitry Peskov.
"This was caused by a technical glitch on the server," — he said. He promised that "literally in a minute the president's full speech will be repeated."
The broadcast of Putin's speech was interrupted at the moment when he said that the start of a military special operation in Ukraine "quite by chance coincided with the birthday of one of our outstanding military [chiefs]." After these words, without a pause, federal channels began to broadcast the speech of Oleg Gazmanov, also not from the beginning. In addition, problems arose with the broadcast later: the sound disappeared during the speech of the representative of the Ministry of Foreign Affairs, Maria Zakharova.
According to a RBC source, they are close to the organizers of the broadcast, it was distributed to federal channels by the All-Russian State Television and Radio Broadcasting Company. According to him, the air went on with a delay of several minutes and, perhaps, there was a switch to the broadcast directly. RBC's source in VGTRK said that the company is looking into the causes of the incident. RBC sent inquiries to VGTRK.
Some time later, federal TV channels showed Vladimir Putin's full speech.
As the president noted, the start of the special operation coincided with the birthday of military commander Fyodor Ushakov, who was canonized as a saint and "did not lose a single battle." Putin concluded his speech with the words of Ushakov: "These thunderstorms will go to the glory of Russia." "So it was then! So today! And so it will always be!»— Putin said, after which he thanked the audience and left the stage.
In his speech, Putin, among other things, spoke about the special operation in Ukraine.
According to him, the main goal of this special operation – "to save people from this suffering, from this genocide." According to the president, "punitive military operations" were organized against the residents of Donbass. "They were immediately put into a blockade, subjected to systematic shelling from cannons, and air strikes," he said.
Speaking of the actions of the Russian military in Ukraine, Putin noted that the military, "if necessary, how a brother is covered with his own body from a bullet on the battlefield", and declared the unity of Russian society.
Russia has been conducting a special operation in Ukraine since February 24th. Its goals, along with the protection of the population of Donbass from the "genocide" declared denazification and demilitarization of the country. The Russian Ministry of Defense stated that strikes were carried out only on military targets, and there was no threat to civilians and social infrastructure.
After the start of the special operation, Kyiv broke off diplomatic relations with Moscow and declared martial law.
Subscribe to VK RBC Get news faster than anyone else