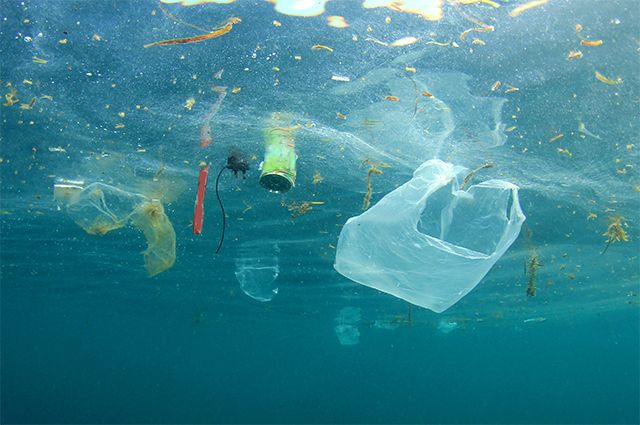 Even children know about the dangers of plastic. Pollution of the planet with this type of garbage remains one of the main environmental problems. Experts never tire of repeating that plastic, unlike paper and even metal, is not included in natural cycles. A plastic bucket or bottle, having served its time, will lie in a landfill for 500 years or more.
Every year, between 8 and 11 million tons of plastic waste is dumped into the waters of the oceans. Crushed to almost invisible fragments, they turn into microplastics, which eventually penetrate into our body. So, scientists have found that at least 5 grams of this substance enters the human body every week (imagine a bank card, ground in a blender).
Researchers around the world are looking for new ways to dispose of plastic waste . What ideas and suggestions do they have?
Robots, barriers, bubbles
For starters, it would be nice to set up a large-scale collection of plastic bottles, bags, disposable tableware, etc. floating on the rivers and seas of the whole world. Such startups exist and have already achieved some results.
According to the Dutch company Ocean Cleanup, its goal — collect 90% of all plastic in the ocean by 2040. First, she worked on creating a protective barrier to clean up the Great Pacific Garbage Patch (a giant accumulation of anthropogenic waste in the North Pacific Ocean), and in the fall of 2019, she introduced a robot for collecting garbage in rivers. Experts have calculated that the interception of plastic in rivers is more cost-effective than the elimination of the consequences downstream, and even more so in the open sea, where the garbage ends up.
Proposed Ocean Cleanup device — it is a catamaran to which a long floating barrier is attached. It collects river debris and directs it to a conveyor belt that distributes the waste into containers. The catamaran robot runs on solar energy and is capable of collecting 50 tons of waste per day. Two such devices were tested in Indonesia and Malaysia — there they cleaned the local rivers, considered one of the dirtiest in the world.
Floating water barriers are also manufactured by the American company Worthington. She has successfully implemented projects to eliminate plastic pollution in the USA, Panama, Turkey and the Dominican Republic. But the startup The Great Bubble Barrier went the other way. As you might guess from its name, it decided to fight floating debris with the help of bubbles. The system works like this: pipes are laid diagonally at the bottom of the river, through which air is supplied under pressure. A stream of bubbles is created, which causes the debris to rise to the surface, and the natural flow of water pushes it towards the collection system installed on the shore. There, the waste is collected and sent to a processing plant.
According to the developers, the bubble barrier traps 86% of river debris, preventing it from getting into the sea, and then into the oceans. The advantage of the technology is that it does not interfere with the passage of ships and does not create problems for aquatic inhabitants.
Voracious bacteria
In early 2022, scientists made an amazing discovery: across the Earth, microbes are rapidly evolving to feed on plastic. The fact that they are in principle capable of this was no secret to science. Six years ago the Japanese, examining soil samples from landfills, discovered in them a bacterium that ate polymers, including PET packaging material. Especially for its processing, she developed two enzymes: so microbes not only adapted to life in garbage, but also got a new source of food.
Now it turned out that the phenomenon has become widespread: so much plastic has accumulated on the planet, and it has become so ubiquitous that it stimulates microorganisms to produce enzymes that decompose it. Scientists using computer simulations that analyze the DNA of microbes have counted 30 thousand variants of the genetic sequences of enzymes that can process plastic waste!
The same soil bacterium Ideonella Sakaiensis, discovered by the Japanese, decomposes plastic and turns its molecules into water and carbon dioxide. True, the enzyme acts very slowly: it took six weeks to dispose of a sample of thin plastic film. However, scientists are trying to speed up its work. In 2018, researchers from the University of Portsmouth, based on the discovery of Japanese colleagues, synthesized an enzyme that can decompose plastic 20% more efficiently. And it can eat not only PET, but also another polymer — PEF. The same team then developed an even more advanced version of the protein, which they described as a superenzyme: it digests waste six times faster.
Scientists believe that if colonies of bacteria Ideonella sakaiensis&nbsp ; to landfills and landfills, this will significantly speed up the recycling of polymers. In addition, they suggest using synthetic versions of enzymes that they have created. One of the possible technical solutions — a floating "reactor" that collects plastic in the ocean and recycles it on the spot.
True, the method has a drawback that needs to be paid attention to. As already mentioned, one of the by-products of eating polymers by microbes — carbon dioxide. But it is precisely this chemical compound that is "assigned" to the main culprit of global climate change: an increase in the concentration of CO2 in the atmosphere leads to a greenhouse effect, an increase in average temperatures and the number of extreme weather events. It is unlikely that environmentalists will like the fact that cleaning up the planet from garbage will have to pay with additional carbon dioxide emissions.
Mushrooms and insects
Bacteria are not the only ones to help mankind in getting rid of total plastic pollution. It turns out that some types of mushrooms and even insects like to eat polymers.
In 2015, researchers from the USA and China found out that the larvae of the large flour beetle, in the absence of other food, are able to eat polystyrene foam — a kind of foam (and it is also plastic, only filled with gas). This ability was discovered by accident: they forgot to feed the insects, and they began to eat their own plastic feeders. After that, the scientists conducted an experiment. For two weeks they fed mealworms (meal beetle larvae) with Styrofoam, and the control group — bran. The survival rate in both groups was the same, the foam plastic did not bring any harm to the larvae. True, their digestive system, as in the case of Ideonella sakaiensis bacteria, converts polymers into carbon dioxide.
In 2017, biologist Federica Bertocchini from the Institute of Biomedicine and Biotechnology of Cantabria (Spain), who is fond of breeding bees, cleaned its hives from pests, including — from great wax moth larvae (bee moth) Galleria mellonella. The researcher collected them in a plastic bag, but soon discovered that they had chewed through it.
Then Federica conducted an experiment with these insects in the laboratory. In 12 hours, a hundred wax moth larvae destroyed 92 milligrams of polyethylene. As it turned out, their digestive system, adapted to the processing of beeswax, is able to cope with its molecules too. At the same time, ethylene glycol — colorless and odorless substance. Biologists were impressed by the speed of digestion: bacteria with the same ability take weeks and even months to digest. Now we need to understand how to use this property to create plastic biodegradation technologies.
As for mushrooms, here the attention of scientists is attracted by Aspergillus tubingensis — a close relative of "black mold" Aspergillus niger. His ability to eat polyurethane was tested in a junkyard in Pakistan and in the laboratory. When interacting with plastic, this mold fungus releases an enzyme that breaks down chemical bonds in polymers. If the optimal conditions for its growth are determined, it may be possible to establish a large-scale use of the microorganism in sewage treatment plants or in soils that already contain plastic debris.
Another candidate from the fungus kingdom to save humanity from plastic pollution — Pestalotiopsis microspora. In 2011, a group of Yale University students, led by Professor Scott Strobel, during an expedition to the rain forests of Ecuador, discovered the ability of this microorganism to decompose polymers, and in the absence of oxygen. placed at the bottom of landfills, where they will feed on the same polyurethane, reducing its volume.
Xenobots
Two years ago, American scientists for the first time created living creatures whose behavior is set not by nature, but by a computer program. They were grown from stem cells of smooth clawed frogs and called xenobots.
Looking like Tiny clumps of pink flesh, xenobots are able to move in the aquatic environment, group and push small loads. In fact, these are biorobots: they are created from living cells, but everything they do is programmed by the artificial intelligence system. Its algorithms simulate the joint work of various combinations of cells, forcing them to perform the same actions and functions many times.
"These are living machines. They are neither traditional robots nor any species. This is a new artifact class — living programmable organism, — saida specialist in computer technology and robotics at the University of Vermont, lead author of the study Joshua Bongard. — There are many things that are possible if we take advantage of their malleability and ability to solve problems».
One of the uses of living machines — just the collection of microplastics, which pollute the reservoirs of the planet. The developers themselves are talking about it. Xenobots can survive in the aquatic environment without additional nutrients for several weeks. If you set them to the right program, they will collect microplastic particles and deliver them to a specific place for further disposal.
Of course, for now this is just an idea, which also looks fantastic. But this was the case with many technologies that later became familiar to us.