Putin: Russia wants to resolve issues by diplomatic means, having security guarantees "Armed conflicts, bloodshed is absolutely not our choice," Putin said. According to him, this is the meaning of the security proposals that Moscow sent to Washington and Brussels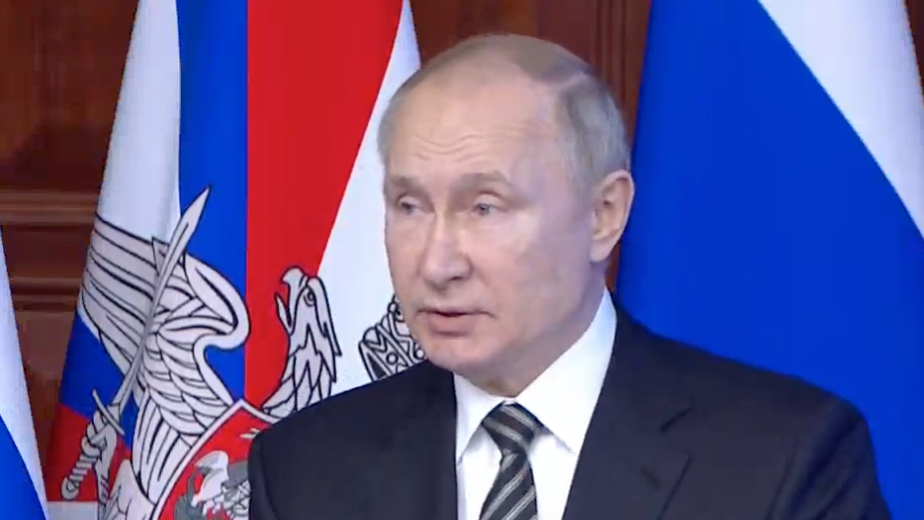 Video
Russia does not want armed conflicts, President Vladimir Putin said at the expanded board of the Ministry of Defense.
'Armed conflicts, bloodshed & mdash; this is absolutely not our choice, we do not want such a development of events '', & mdash; said the president. According to him, Russia is in favor of solving issues by political-democratic means, but the country needs " clear, understandable, clearly stated legal guarantees. ''
" This is the meaning of our proposals, laid out on paper and sent to Brussels and Washington, '' & mdash; Putin explained and expressed the hope that Moscow will receive an answer to them.
Putin said that Russia sees signals from partners willing to work on this. But at the same time, according to him, there is a danger that " there will be an attempt to chat, plunge into some kind of swamp '' Russian proposals, which will not suit Moscow.
In December, Russia sent the US and NATO draft agreements on security guarantees, the Foreign Ministry disclosed the contents of the documents. In particular, Russia believes that the United States should not establish military bases on the territory of states that were formerly part of the USSR, and calls on Washington to commit to exclude further NATO expansion eastward. Another of the points implies the mutual renunciation of the deployment of armed forces and weapons in areas where such deployment would be perceived by the other side as a threat.
The White House said that the discussion with Russia of security guarantees in Europe is possible only in conditions of de-escalation and that the European partners of the United States should participate in it. The EU High Representative for Foreign and Security Policy Josep Borrell also insists on this. NATO Secretary General Jens Stoltenberg, commenting on the Russian proposals, pointed out that NATO would not compromise on Ukraine's accession and that it should choose its own path.
The Russian Foreign Ministry advocates a bilateral dialogue on security guarantees with the United States. Vladimir Chizhov, Russia's Permanent Representative to the EU, believes that the EU can play a supporting role in it.
On the need for negotiations to form legal security guarantees for NATO's eastward expansion, Putin said on December 1, adding that " Western colleagues are not fulfill their respective oral obligations. '' This was one of the topics of discussion at his online talks with US President Joe Biden.
Subscribe to RBC's Telegram Receive news faster than anyone