Story National projects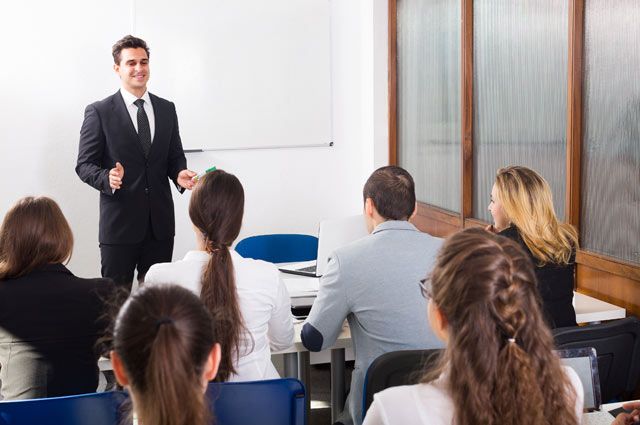 More than 16 thousand people in the Russian Federation have already been retrained thanks to the national project "Demography". Another 60,000 are studying now. In total, at least 345,000 people will be able to receive training this year, because applications for vocational training continue to be accepted.
Retraining is currently being carried out at three bases, these are Tomsk State University, the Agency for the Development of Professional Excellence (WorldSkills Russia) and RANEPA.
Educational programs offered to those who wish have a wide scope. Among the areas in which training takes place: media communications, medical business, housing and communal services, construction, tourism, personnel management, finance, law, 3D modeling, confectionery and many others. The list of directions available in specific regions can be found when filling out an application for training on the portal "Work in Russia"; https://trudvsem.ru/information-pages/support-employment/. Classes are held both in full-time — on the basis of educational organizations throughout the country, and online. Duration of training depending on the program and schedule of classes — from 3 weeks to 3 months.
Alexander Sharafutdimovfrom the Altai Territory just completed his studies under the new program. He shares his experience: "I immediately applied for the training program as soon as I learned about the opening of such an opportunity. Consultants of the personnel center "Work of Russia" Barnaul helped a lot: they explained everything calmly and in detail, sorted out the algorithm of actions. Before that, I didn't have any profession at all, only the experience of working as an apprentice in a car repair shop, so I decided to develop in the direction that I had already tried before. For development, I chose the profession of a bodyworker. The training took place under the program of the WorldSkills Russia Academy at the Barnaul Transport College. I especially liked that the vast majority of the classes were practical — we worked and learned to work all the time. The right approach, because this way you feel more confident, it will be easier to start professional duties.
Alexander correctly noticed the main component of the new educational project — its practical orientation. "This is the main difference between these educational programs, — said the head of the department of vocational training and competence development of the personnel center "Work of Russia" in Barnaul Lyubov Kosheleva. — Simultaneously with the qualification document, our graduates also receive a "skills-passport", thanks to which the employer will immediately, without an additional probationary period, be able to understand the professional level of the future employee. Now among our students such professions as a car repairman, a CNC machine operator, a bodyworker, a tractor driver, a driver, a hairdresser, a cook are especially popular.
In the Voronezh region, the future training for 1 2 thousand inhabitants, of which 737 people are mastering their specialty now, and 14 have already received diplomas. One of them —Alena Zaichenko. Having received the appropriate specialty in the Fashion Technologies program, she planned to open her atelier in the regional center. She took the course at the Voronezh State Vocational Pedagogical College, where Alena received basic knowledge of the basics of modeling in a month of training. Plus, there were practical classes where the students sewed shorts, a skirt, a blouse and a dress on their own. "Before, I could only sew on a button myself, but now I sew myself and my family, I hope to earn money on this now. I plan to open my own atelier for tailoring underwear and clothes for women with non-standard forms, since it is they who often face problems in choosing factory-made clothes, », — Alena says.
A Yuri Andreevfrom Chuvashia is studying at the Cheboksary College of Construction and Municipal Economy with a specialization in Furnace Engineering. Previously, this profession was passed down from father to son, from generation to generation, in the modern world, teaching the art of laying stoves has moved to a professional level. The training program includes laying models of stoves, fireplaces and barbecues according to the drawings. Here is what Yuri tells about the classes: "I decided to thoroughly master the skills of laying stoves, because this will make it possible to find a well-paid job. I knew in advance that this profession is in demand. Of course, the peak of orders traditionally falls on the summer. In the warm season, new stoves are laid or old ones are shifted. But in the autumn, before the onset of the heating season, it is often necessary to repair existing heating devices. His fellow student Aleksey Vtyurin adds: "For a long time I wanted to change my specialty, but there was no money for retraining. And then such an opportunity — learn something at a high level and for free. Now I literally absorb new knowledge that I can apply in the future. The most useful in the course — practical classes where you can hone your skills. To be honest, I get satisfaction in the classroom. I feel that I like this work».
Rate the material