Explosions in the port are connected with mine clearance, the administration of Berdyansk said. They claim that the explosive devices left the armed forces of Ukraine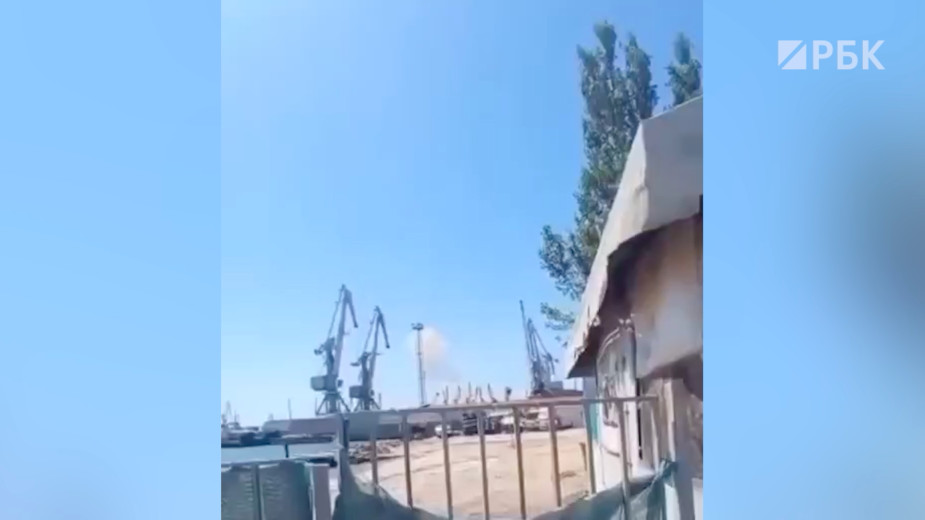 Video
Explosions in the port of Berdyansk are connected with mine clearance, the city administration said, RIA Novosti reports. .
"Residents of Berdyansk and guests of the city, keep calm: the explosion that occurred today in the port of the city at 13:00 was the result of demining the port area from explosive devices left by the Armed Forces of Ukraine," — the administration said.
The UNIAN agency, citing eyewitnesses, reported two explosions in the port: the first occurred at about 13:20 (the time coincides with Moscow time), the second— in 10–15 minutes.
RBC sent a request to the press service of the Russian Ministry of Defense and to the mayor's office of Berdyansk.
Berdyansk is located in the Zaporozhye region of Ukraine. Since the end of February, it has been under the control of the Russian military. A new administration was formed there, Alexander Saulenko was appointed acting mayor.
Read on RBC Pro Pro How McDonald's shares were affected by the company's exit from Russia What lies ahead for the industry Articles Pro How sanctions will affect Russian exports Studies Pro Freudian success: why McDonald's is not inferior to competitors Articles Pro Import substitution in Brazil revived the growth of corruption. How it happened Articles Pro Why do we dream: 5 theories Articles Pro The peak of the crisis will be in 2023: what awaits the warehouse market in Russia Articles
At the end of April, the Ukrainian authorities decided to close the ports in Berdyansk, Mariupol, Kherson and Skadovsk, which are located on the territory not controlled by Kyiv. They explained the decision by "the impossibility of servicing ships and passengers, carrying out cargo, transport and other related economic activities." Ports will be closed "until control is restored" over them, the Ukrainian Ministry of Infrastructure reported.
On May 29, Vladimir Rogov, a member of the main council of the pro-Russian military-civilian administration of the Zaporozhye region, said that the port of Berdyansk was "in good condition, despite numerous shellings." According to him, it is planned to resume the work of the port in the near future, a full restart— "a question of several weeks."
Western countries insist that the Russian military is blockading Ukrainian ports and, as a result, ships with a cargo of grain cannot leave from there. In response, the Russian authorities claimed that the ports and the water area near them were mined and merchant ships could be blown up. At the end of May, the Ministry of Defense announced the opening of corridors for the exit of foreign ships from the ports on the Black and Azov Seas.
Authors Tags Subscribe to RuTube RBC Live broadcasts, videos and recordings of programs on our RuTube channel