The use of drones reduces losses among aircrew
Photos with the wreckage of the Russian Orion heavy drone have appeared on Ukrainian social networks. The fact that such unmanned aerial vehicles are involved in a special military operation was previously reported by the Russian Ministry of Defense. Orions not only conduct reconnaissance, but can carry small guided aircraft missiles and bombs. MK asked the expert to comment on the possible loss of the drone.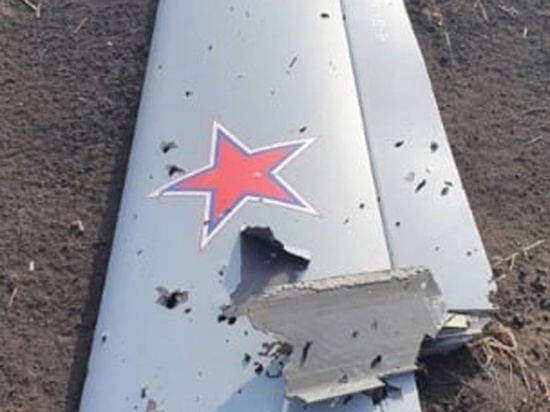 Photo: Social networks
Unmanned aerial vehicle "Orion", or "Pacer" is the largest flying drone used by the Russian army. Its mass — about a ton. Can carry up to 200 kg of guided munitions. Able to stay in the air for a day. It is believed that the flight altitude — up to 7500 meters. The radius of application is 250-300 kilometers.
Development of "Orion" went on for over ten years. Drone tested in Syria. The military department recently ordered the first small batch of these drones. For their production, a plant was built in the Moscow region.
The Ministry of Defense of the Russian Federation, during a special operation, presented several videos in which, with the help of Orion, Ukrainian armored vehicles are being destroyed.
The Russian military does not comment on the photographs that appeared on Ukrainian social networks, in which fragments of the drone were recorded.
After analyzing the presented photos, Denis Fedutinov, an expert in the field of unmanned systems, told MK:
– Judging according to the photo, the Orion unmanned aerial vehicle was lost due to fire damage. This is a known vulnerability for devices of this class, be it Russian, Israeli, American, or any other drones.
According to the expert, the presented photos do not allow us to accurately indicate what kind of weapon the Orion was shot down.
The United States in recent conflicts, Fedutinov said, suffered "relatively small losses of drones." This was explained by the fact that unmanned aerial vehicles were used against countries whose armed forces were several steps lower in their technical equipment.
The situation in the zone of the special military operation, according to the expert, is very different in this regard.< /p>
– In general, the loss of an unmanned aerial vehicle, albeit such a large one as Orion, – this is an ordinary event that does not deserve the attention that they would like to draw to this news in Ukraine, the expert said. – The absence of a pilot means no loss of personnel. Well, a problem that can be solved for money, – this, as you know, is not a problem, but a cost. In this regard, what happened once again indicates the relevance of large-scale purchases of such drones. There should be hundreds of them in the troops.