And make the confrontation more bloody
According to the British newspaper Times, British Prime Minister Boris Johnson plans to supply Ukraine with "more deadly" weapons. He announced this to his cabinet of ministers. The Times cites the AS-90 self-propelled artillery mount as an example of such deliveries.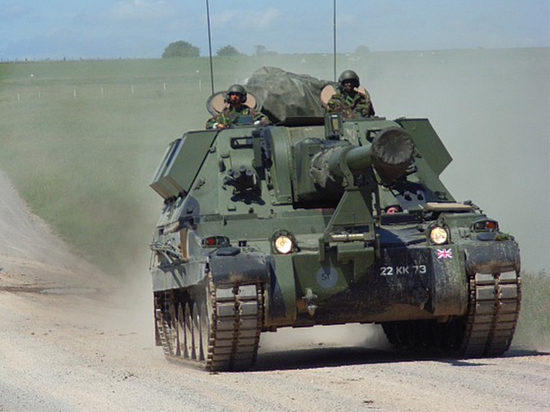 Photo: ru.wikipedia.orgAndrew Smith .
What kind of "more lethal" weapon is this and what other weapons can we talk about, PhD in Political Science, Director of the Center for Comprehensive European and International Studies at the National Research University Higher School of Economics Vasily Kashin.
– The AS-90 is a self-propelled 155mm howitzer that entered service in the early 1990s, the expert says. – They were made only about 180 units, and they were not produced anymore. Some of them may be kept by the British in reserve, as the size of their army was reduced, and now they can sell several dozen of these howitzers to Ukraine.
According to Kashin, the AS-90 howitzer has been modernized and is a more modern weapon than the Ukrainian army has. But no more modern than those artillery systems, for example, the Msta-S in its modernized version, which is used by the Russian army. Deliveries of AS-90s, Kashin believes, can somewhat increase the capabilities of Ukrainian artillery, but rather not qualitatively, but quantitatively.
– The Ukrainians will be able, of course, to shoot at a long range, – the expert explains, – and in some cases even with guided munitions, if they are given them. But the number of these guns will be small. In addition, they will need to provide a training system for specialists, which can take a couple of months. At the same time, there is no doubt that the Russian military will hunt for these weapons as a priority.
At the same time, Vasily Kashin does not exclude that the UK can also supply even more serious weapons – the so-called MLRS (Multiple Launch Rocket System).
"This is a more powerful American heavy multiple launch rocket system, which is in service with the UK," the expert says. – There are few of these systems – about 40 units. But this is a very serious weapon system that is capable of firing, among other things, operational-tactical ballistic missiles for hundreds of kilometers. True, such weapons are "sensitive technology" that the British do not have the right to transfer without the consent of the Americans. But if such consent is obtained, then the development of such systems by Ukrainians will require quite a long preparation, which can last several months.
Whether the Armed Forces of Ukraine (APU) has this time is a big question.
But even this weaponry, according to Kashin, will not be a salvation for Ukraine, even if it allows them to replace the rapidly waning Tochka-U missiles and the Smerch multiple launch rocket systems they modernized. Although the expert admits: such deliveries would mean a serious escalation of the conflict, lead to heavy losses and require Russia to allocate additional forces for priority tracking and destruction of these systems.
In this case, Kashin believes, Russia will apparently have to send additional forces to the Ukrainian direction, act more harshly and actively, striking at the territory bordering NATO, trying to track supply routes there. Although by themselves these systems will not cause a turning point in hostilities either. They can only prolong the confrontation, making it more bloody.
– I can assume, – says Vasily Kashin, – that Johnson was talking about these systems. Although it is difficult to take such a step without preparation at once. Previously, it was mainly about old Soviet weapons, or about one that can be quickly and easily mastered. However, thanks to such statements, the logic of the decision to launch a special operation that Russia is conducting in Ukraine is now largely clear. The systematic transfer of all this military "economy" to Kiev was planned for a long time. In Ukraine, much has been done to create a large pool of trained specialists who could use all this. In case of loss of equipment during the hostilities, the surviving specialists could be supplied with a new one. The creation of a developed infrastructure for training such military specialists according to NATO standards would bring Ukraine to a new level. And everything went to this. The first signs that they were going to be given something really complex and advanced were. Confirmation are contracts with the British and Turks for the supply of warships. And now we see belated attempts by the West to implement earlier decisions. But in this case, they will no longer be able to bring them any serious result.