"Prototype of a terrorist organization"
The United States is ready to support the guerrilla movement in Ukraine & nbsp; in the event of a Russian invasion. This was reported by The Washington Post. Washington is already exploring options for supplying weapons and providing other assistance to the Ukrainian military to resist the invasion of Russian troops, as well as logistical support to rebel groups. The expert appreciated the Ukrainian 'partisan tactics'.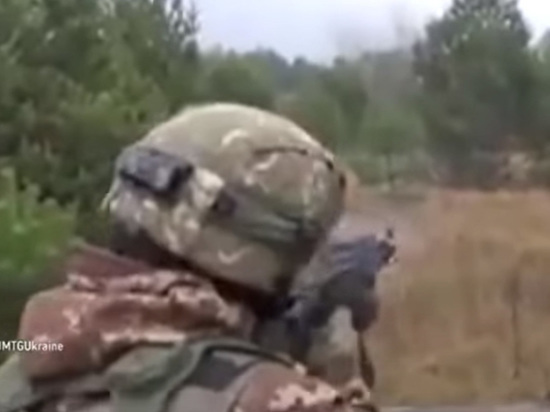 Photo: Still from the video
"The main goal of the US administration is to punish Russia in the event of Putin's invasion of Ukraine without the direct participation of American troops. President Biden ruled out such participation, "the American edition says.
Moscow rejects any accusations of preparing an invasion of Ukraine. With whom then will the Ukrainian partisan detachments fight and why America needs them, military expert Anatoly Matveychuk told MK.
– The first thing I want to say when hearing such statements: idiocy is off the charts. But seriously speaking, it is already known that the Americans are sending militants from the Middle East to Ukraine. There is evidence that already 700-800 people are there. In addition, rabid nationalists such as Beletsky and Bereza are allegedly already preparing partisan detachments that will have to act in the event of a Russian invasion. In Western Ukraine there is such a movement "Banderovets", they, in turn, make some kind of caches, store weapons … It cannot be denied that Ukraine is preparing for a guerrilla war.
In fact, not only the Americans are ready to support "Independent". Great Britain and Canada have also transferred some of the volunteers there, the so-called private military companies (PMCs), which will have to lead the movement against Russia.
– According to the agreement between the United States and Ukraine, heavy weapons have not yet been supplied. But Washington is now lobbying for the granting of Ukraine the status of an ally outside of NATO, as was the case with Afghanistan. And then heavy weapons can go to Ukraine without restrictions. Or else as an option: deliveries can be made through the US allies – the same Lithuania or Poland. Perhaps, units will be created armed with such weapons. A certain prototype of ISIS (a terrorist organization banned in the Russian Federation – "MK" ), only Ukrainian. Their actions will spread throughout the country against the occupiers and against the central government, if it contradicts them. That is, their main goal is to destabilize the situation in Ukraine. Whether it can become a mass movement – I personally doubt it. Today, Ukrainians cannot even call up reserves into the army. And their mentality is not the same: they would rather live in the zone of occupation than fight against the invaders.
– I think the Americans are carrying this nonsense so as not to lose face and to convince everyone of their importance. A kind of propaganda farce.