The politician told what happened to Mamulashvili in captivity in Abkhazia
The commander of the extremist "Georgian Legion" fighting on the side of Kyiv, Mamuka Mamulashvili, said that his unit would not take Russian soldiers prisoner and Kadyrovites. So he commented on another video of the murder of Russian prisoners of war, distributed on the Web. One of the killers was identified as a subordinate of Mamulashvili, a former bodyguard of ex-President of Georgia Saakashvili.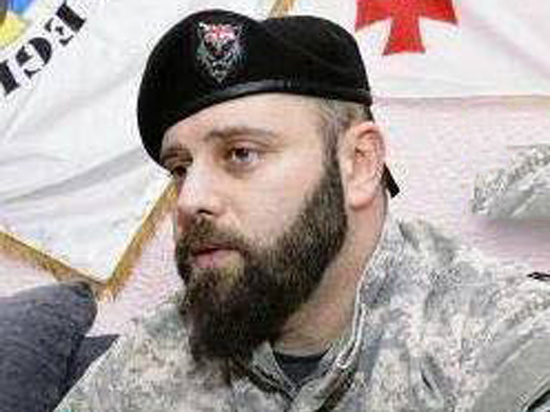 Mamuka Mamulashvili Photo: en.wikipedia.org
In the video under discussion, the authenticity of which was confirmed by the American New York Times newspaper, captured Russian servicemen lying on the road with their hands tied are being killed. This is supposedly happening on March 30 near Kiev. Soldiers were ambushed during the withdrawal of Russian troops from the capital of Ukraine.
Three participants in this war crime have been identified. One of them – this is a fighter of the "Georgian National Legion" Teimuraz Khizanishvili, former bodyguard of ex-President of Georgia Mikheil Saakashvili. A number of Telegram channels published photos showing the militant next to Saakashvili during some street events.
An account was also found on the social network of his wife, a Ukrainian woman. As can be seen from the photos posted there, the legionnaire loves a beautiful life. He has presumably been in Kyiv since 2014. It was then that the "Georgian Legion" was formed from the citizens of Georgia, many of whom arrived in Ukraine to participate in the Euromaidan. Its creator Mamuka Mamulashvili – a person with an interesting biography.
Your combat path «legionnaire» started at the age of 14 in Abkhazia, where young Mamuka fled "to the war"; to his father – General Zurab Mamulashvili, the commander of one of the Georgian units. His father tried to send him back to Tbilisi, home, but to no avail. According to the Georgian media, Mamuka remained to live among the fighters and took a direct part in the hostilities. It ended badly: Mamuka, who was then 15 years old, was captured by the Abkhazians. About how it happened, "MK" said the famous Abkhaz public figure Beslan Kobakhia:
– Mamuka was captured on July 4, 1993. At that moment I was the chairman of the commission for the exchange of prisoners of war and I remember very vividly everything that happened then. He was caught as part of a whole group of Georgian military led by his father – General Mamulashvili. They were busy guarding the Sukhumi hydroelectric power station. A total of 50 people were taken prisoner.
According to Kobakhia, the boy was not imprisoned for a single day:
– We immediately handed him over to an Abkhazian family, the head of which served in the same unit that captured this group of Georgians. There he was looked after, as well as for their children. They fed, washed. Naturally, there was no question of any mockery of him.
Now I sometimes read his interviews in which he describes the "horrors" of Abkhaz captivity. Lies in every word. Unfortunately, this boy never realized how merciful fate was to him. Now he has already reached the point that he orders his unit not to take prisoners. If we had treated him in the same way, then he would not have been alive for a long time.
– We then exchanged and gave away this entire group. And we exchanged Mamuka Mamulashvili for Edward Ginjolia – the Georgians had such a guy in captivity, who was then 17 years old.
We brought Mamuka to Eshery to the Gumista bridge, where the exchange took place. Mamuka was fully dressed, shod, clean, well-fed, in washed and ironed clothes. And from the other side they brought a beaten guy, we took him away in a very serious condition. A year later, he passed away, committed suicide. I think the captivity left a heavy indelible mark on his psyche.
Therefore, when I hear what Mamuka Mamulashvili says, I hope that someday he will be caught and I will be able to look him in the eye. I would like this very much. I would like to ask him: why does he use the chance that the Lord gave him in this life in this way?
– Yes, this, unfortunately, happened, and more than once. We remember all this, we have all this in our archives. The way the warring parties treat prisoners speaks volumes. Those who kill, maim and humiliate prisoners show uncertainty about their rightness and weakness of their positions. If you treat prisoners inhumanly, it means that you will soon lose this war.