The day before, the SBU detained Medvedchuk, who had escaped from house arrest. Commenting on the possibility of his exchange, Peskov recalled that he is not a Russian citizen and is not related to the Russian special operation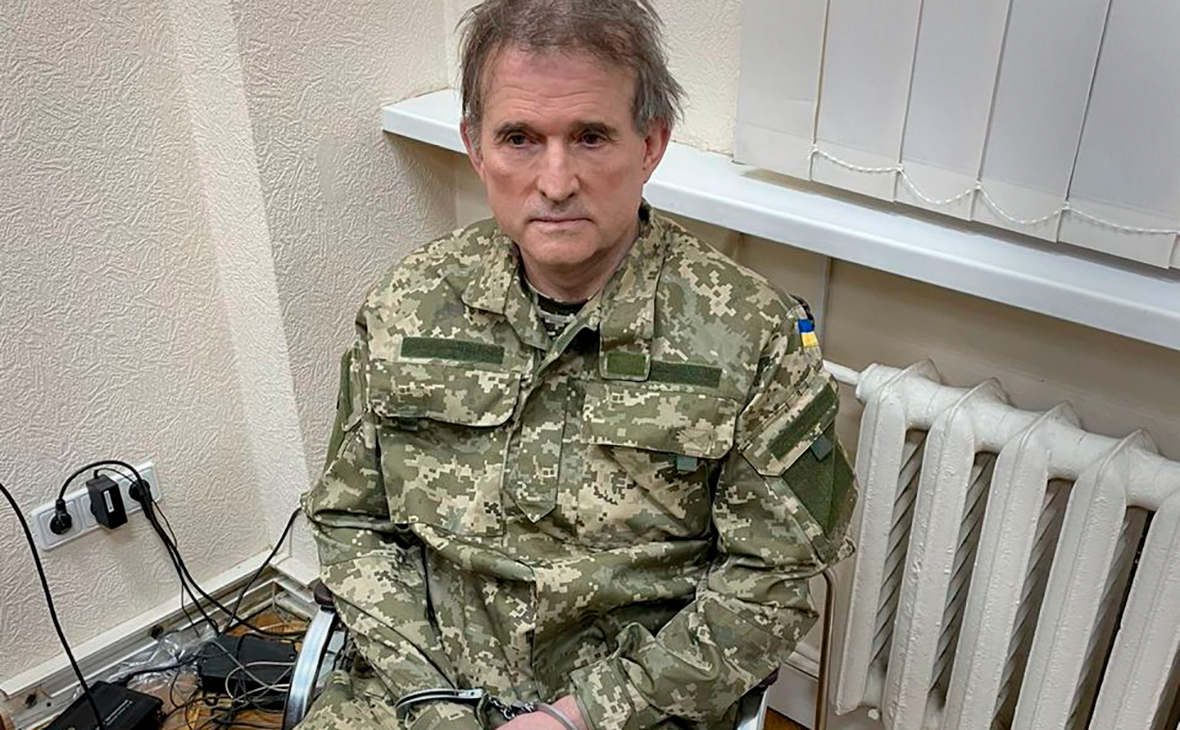 Victor Medvedchuk
The head of the political council of the Opposition Platform party, detained the day before by SBU officers, For life» (OPPL), People's Deputy Viktor Medvedchuk is not a citizen of Russia and has nothing to do with Russia's military operation in Ukraine, said the representative of the Russian President Dmitry Peskov, RBC correspondent reports. This is how he answered the question about a possible exchange of Medvedchuk, which was previously proposed by President Vladimir Zelensky.
"We don't know at all whether he himself wants some kind of Russian participation in resolving this libelous situation against him,"&mdash ; added by Peskov.
Commenting on the detention of the politician, he called it "a vivid illustration of what the Kyiv regime really is." Peskov also added that Medvedchuk heads an opposition party that "had its own view and its own position." He stressed that the politician had always "opposed the war, against the expansion of the conflict in the Donbass" and, if the Ukrainian authorities took into account these ideas, "there would be no military operation."
On the evening of April 12, Ukrainian President Volodymyr Zelensky published a photograph of a man resembling Medvedchuk in handcuffs and camouflage clothing. At the same time, he thanked the SBU for conducting the special operation. Later, the special service confirmed Medvedchuk's detention.
Zelensky offered Russia to exchange Medvedchuk for "our guys and girls in Russian captivity." "I consider it especially cynical of him to use military camouflage. I tried to disguise myself. Here is such a "warrior". Here is such a "patriot". Well, if Medvedchuk himself chose a military uniform, he falls under the rules of wartime, — said the president.
Medvedchuk— godfather of President Vladimir Putin, the latter is the godfather of his daughter. The investigation against Medvedchuk has been ongoing since the spring of 2021, he has been charged with treason and violating the rules of war. Several episodes are being investigated, in particular, a possible collusion with a Russian official for mining on the Black Sea shelf near the coast of Crimea, the alleged transfer of data on the Armed Forces of Ukraine to Russian special services, as well as the participation of a politician in disrupting coal supplies to Ukraine in favor of raw materials from the Donbass.
Read on RBC Pro Pro School of sales. What if the customer doesn't want to buy? Summary Pro How exporting gas for rubles will affect investors: analysts' opinions Articles Pro The government has allowed parallel imports in Russia. Or not? Forecasts Pro How force majeure will help – instructions for use Instructions Pro Harbingers of dismissal: how to understand that they are ready to say goodbye to you Instructions Pro Russia has double-digit inflation. What assets can insure against it? 2022, the Ministry of Internal Affairs of Ukraine reported that he had escaped.
Subscribe to Telegram RBC Stay up to date with the latest news even in conditions of blocking