In Stockholm and Helsinki, they are discussing the imminent entry into the North Atlantic Alliance
Finland and Sweden may soon join NATO because of the conflict in Ukraine, which is fraught with a deterioration in relations between these northern European countries and Russia.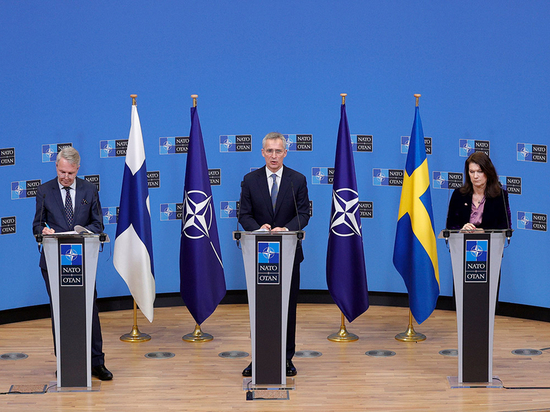 NATO officials told CNN that discussions about joining Sweden and Finland to the bloc became extremely serious after Russia began military operations in Ukraine, and senior US State Department officials said the issue was raised at a meeting of NATO foreign ministers this week, which was attended by foreign ministers from Stockholm and Helsinki.
Public opinion in Sweden and Suomi on joining the North Atlantic Alliance has changed significantly as the conflict in Ukraine continues.
Finnish Prime Minister Sanna Marin said on Friday that her country's parliament intends to discuss possible NATO membership "in the coming weeks," adding that she hoped these discussions would be completed "before mid-summer."
"I think we will have very thorough discussions, but we also do not spend more time than necessary on this process, because the situation is, of course, very difficult," said the head of the Finnish government.
For her part, Swedish Prime Minister Magdalena Andersson, in an interview with SVT at the end of March, did not rule out the possibility of her country's membership in NATO. Sweden is conducting a security policy review due to be completed by the end of May, and the government is expected to announce its position after the report, a Swedish official told CNN. According to sources, official Stockholm may make its position public sooner, depending on when neighboring Finland does.
Finnish Ambassador to the United States Mikko Hautala told CNN that the two countries are cooperating closely with each other, but each the country will make its own independent decision.
On Friday, a Finnish official said that their country would not seek to join NATO because of "despair" in seeking protection from the North Atlantic Alliance. Rather, recent events in Ukraine have forced Helsinki to "rethink the basics," CNN claims.
"And we understand that our relationship with this Russia, which now exists, cannot be the same as before, due to these Russian actions," the official said.
The Kremlin said on Thursday it would have to "balance the situation" if Sweden and Finland joined NATO. "We will have to make our western flank more sophisticated in terms of our security," Kremlin spokesman Dmitry Peskov told Sky News.
Meanwhile, according to CNN, Finnish sources said that there were signals in Helsinki from other countries that they would offer support if there were security problems for Finland between the application and ratification of NATO membership.
NATO Secretary General Jens Stoltenberg said this week: "As far as the interim period is concerned, I'm sure we will find ways to resolve the problems they may have regarding the period between a potential application and final ratification."
Stoltenberg said that Sweden and Finland "could easily join" the North Atlantic Alliance if they "decide to apply", noting that they "cooperated for many years, we know that they meet NATO standards when it comes to interoperability, democratic control over the armed forces."
A Finnish official noted that Finland in NATO is in fact already a "member, but without membership."
Privately, representatives of NATO and the United States say that they would be happy to see Finland and Sweden join the bloc, according to CNN. These countries already have extremely close relationships with the alliance and will be a huge advantage, NATO officials told CNN, especially when it comes to intelligence sharing. Although the level of intelligence sharing between Finland, Sweden and NATO has increased dramatically since the beginning of the Ukraine conflict, according to one NATO official, it is not at the level that it would be if these countries were members of the bloc.