Washington is sympathetic to the position of Kyiv, but does not see the possibility of depriving Moscow of the status of a permanent member of the UN Security Council, said the US permanent representative. She vowed that the United States would "continue efforts to isolate" Russia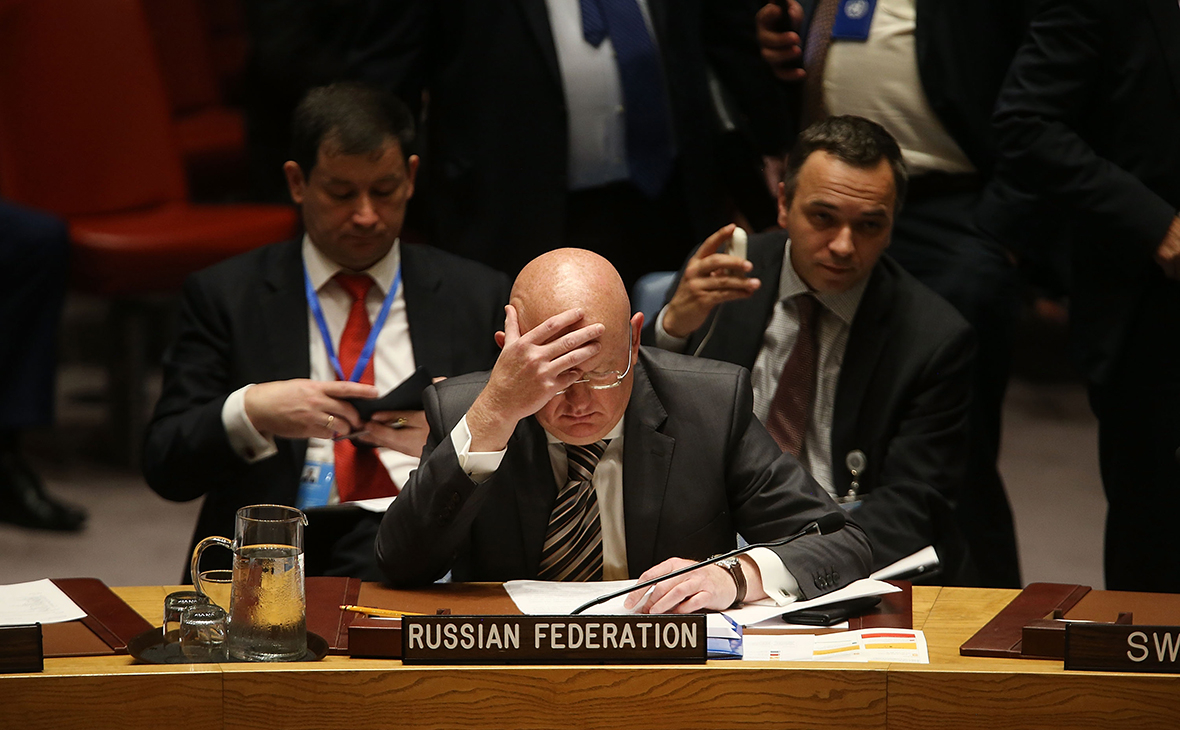 Vasily Nebenzya (center)
The US authorities currently do not see the possibility of expelling Russia from the permanent membership of the UN Security Council, PBS said in an interview Washington's permanent representative to the organization, Linda Thomas-Greenfield.
She said that the United States is aware of Kyiv's request to review Moscow's status in the UN Security Council and understand the point of view of Ukrainian President Volodymyr Zelensky that the Security Council is "reacting slowly" on the situation in Ukraine, where the Russian military operation is taking place.
However, according to Thomas-Greenfield, the United States does not believe that the status of Russia "will somehow change." "But we will continue our efforts to isolate them," — she added.
Zelensky, speaking on April 5 via video link to members of the UN Security Council, called for reforming it and making decisions that would lead to peace in Ukraine. According to the Ukrainian leader, if the organization fails to achieve this, it should exclude Russia from its membership or dissolve itself. After that, the White House stated that the United States shares the concerns of Ukraine, but "does not see the possibility for changes in this regard."
Russian Permanent Representative to the UN Vasily Nebenzya explained that it is impossible to deprive Russia of membership in the Security Council of the organization its charter.
On April 7, the UN General Assembly suspended Russia's participation in the Human Rights Council. 93 countries voted for the adoption of the resolution, 24— against, 58 abstained. This proposal was made by Thomas-Greenfield because of the data on the death of civilians in Ukraine, including in the city of Bucha (Russian authorities call the reports a provocation and a fake; the Ministry of Defense insists that during the time when the city was under the control of the Russian military, « not a single local resident was harmed. In response, Russia announced an early exit from the HRC.
Read on RBC Pro Pro A top manager received an offer in a crisis: when to agree more Articles Pro Ten ways to help the manager avoid burnout Instructions Pro Dangerous language: what words the employer can be fined for Instructions Pro "Already abroad, but I can recommend a friend": how to control IT churn What are the threats to the food market in the new realities? Articles Pro x The Economist Not only SAP: will we see new IT giants in Europe? The authors of the resolution expressed concern about the situation in the country and recalled the obligation to resolve disputes peacefully, assumed by the members of the Security Council.
Article content Authors Tags Subscribe to VK RBC Get news faster than anyone else