At the forefront are the USA, Great Britain and the Czech Republic
NATO countries continue to supply weapons to Ukraine. Some of the deliveries do not reach the Armed Forces of Ukraine (APU) and are destroyed in warehouses. So, the day before, a large arsenal was destroyed near Kharkov, where western anti-aircraft and anti-tank systems were allegedly stored. But the Ukrainian army uses some of the Western weapons in battles. Among those who are especially trying to arm Ukraine are the USA, Great Britain and the Czech Republic.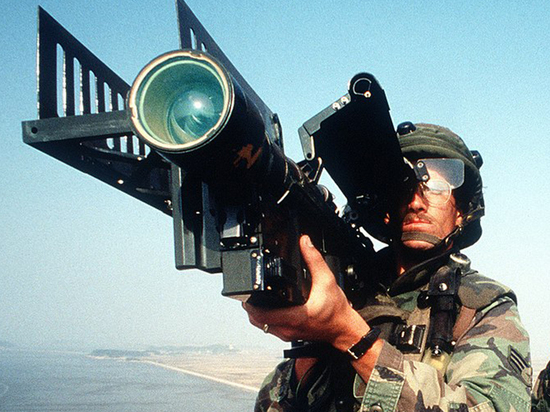 Photo: en.wikipedia.org Tony LambertThe United States, which is most interested in keeping the fighting in Ukraine as long as possible, has handed over entire arsenals to Kiev. Thus, the Armed Forces of Ukraine (APU) received 1400 man-portable air defense systems (MANPADS) "Stinger"; 5000 Starstreak MANPADS; more than 100 loitering ammunition (drone kamikaze) Switchblade; 50 million rounds; 4 counter-battery complexes for quickly determining enemy firing positions and aiming their own artillery at them.
The UK has delivered a total of 4,800 NLAW and Javelin anti-tank missile systems (ATGMs) and Starstreak man-portable air defense systems (MANPADS) to Ukraine. The British managed to transfer the bulk of the ATGMs and MANPADS by transport aircraft before the Russian air defense established a no-fly zone over Ukraine.
The Czech Republic, which, along with the United States, is included in the list of unfriendly countries by the Russian Foreign Ministry, is trying very hard to arm Ukraine. Prague donated 4,000 mortars to Kiev; 7000 assault rifles; 3000 machine guns; 5 T-72 tanks; 5 BMP-1 infantry fighting vehicles.
Slovakia has made a small military business in Ukraine. In exchange for the old Soviet S-300 air defense systems that it gave to Ukraine, Slovakia received Patriot anti-missile systems from the United States. True, according to some reports, one of the three Slovak S-300 divisions has already been disposed of by Russian Caliber. In addition, Slovakia promised Kiev heavy artillery systems capable of striking at a distance of up to 50 km.
Belgium supplied Kiev with 200 ATGMs, 3,000 automatic rifles, and 2,000 machine guns.
Ukraine received 4,500 NLAW and Javelin anti-tank missiles and 7,500 hand grenades from Canada.
Prince Hamlet's homeland handed over 2,700 anti-tank systems to Ukraine and 300 MANPADS "Stinger". Whether anything else is left in Denmark's arsenals is not reported.
Germany handed over to Ukraine 1,000 anti-tank systems, 500 Stingers, 1,500 anti-aircraft missiles for air defense systems. As German officials say, they would be happy to give more, but the arsenals are already empty.
The Netherlands also did not stand aside and sent 200 Stingers, 100 sniper rifles, 30 thousand rounds of ammunition, 400 anti-tank systems to the conflict zone.
Among Ukraine's military sponsors are Lithuania, Latvia, Estonia and, of course, , Poland. The Baltic states transferred to Ukraine almost all stocks of American weapons – dozens of MANPADS and ATGMs.
Poland promised a hundred Soviet T-72 tanks. True, without dynamic and active protection and other equipment. According to the editor of the Arsenal of the Fatherland magazine, Alexei Leonkov, there will be no benefit from such "help".
Leonkov, by the way, believes that the vast majority of ATGMs, MANPADS, and armored vehicles supplied to Ukraine are either inoperative , or close to write-off. "NATO countries have found a profitable way to dispose of weapons and military equipment, where Ukraine is also disposed of along with this junk," Leonkov concluded.
Nevertheless, looking at how unanimously the NATO countries rushed to supply Kyiv with weapons to kill Russian soldiers, one recalls how these same countries behaved during the Second World War.
Take, for example, the Czech Republic. After the Munich partition of Czechoslovakia in 1938, the Czech Republic became almost the main supplier of weapons for Nazi Germany. By June 1941, the German army was almost a third equipped with Czech weapons. Czech factories built a quarter of all tanks and trucks, and also produced 40% of machine guns and machine guns that were armed with the Wehrmacht.
In 1944, when the Red Army fought the Nazi invaders, the Czech Republic delivered thousands of pistols and machine guns, tens of thousands of rifles, 15 million rounds of ammunition, more than 400 guns, hundreds of thousands of artillery shells. Weapons were supplied until May 5, 1945.
The factories of France, Holland, Denmark, Belgium then worked for the Germans … And now, decades later, history repeats itself. Europe is once again supplying weapons to the eastern front, to help those whose ideological inspirers served Hitler during the war.