Ursula von der Leyen hopes for a solution to the issue of Kyiv's accession to the EU within "weeks"
European Commission President Ursula von der Leyen promised a quick response to Ukraine's application for EU membership. However, experts believe that there is a long distance between beautiful promises and reality.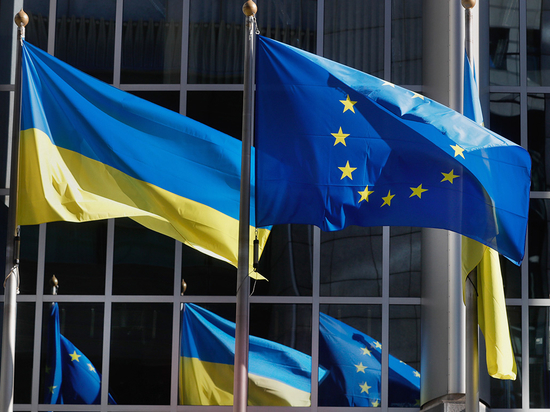 Chief of the European Commission Ursula, who visited the Ukrainian city of Bucha von der Leyen to try to speed up Ukraine's bid to join the European Union.
Ursula von der Leyen suggested that Kiev quickly start working on its application for EU membership, writes The Guardian. Handing Ukrainian President Volodymyr Zelensky a questionnaire that will serve as a starting point for a membership decision, she said: "Forming this opinion, as usual, will not be a matter of years, but, I think, a matter of weeks."
Zelensky said at the same press conference that he would be back with answers in a week.
The promises made by Ursula von der Leyen look, to put it mildly, strange. After all, it usually takes years to become an EU member state, and the process involves several rounds of applications, criteria checks and negotiations. If Ukraine is admitted according to an accelerated scheme (and given the high emotional degree of the current moment, everything is possible), it is easy to imagine the indignation of European countries, which potential neighbors in the common European house "hunt" in the "hallway" for years, demanding from them to provide evidence that they deserve to be accepted into the European Union.
However, Western experts were skeptical about the promises about the accelerated admission of Ukraine to the EU. "There is a huge difference between rhetoric and reality," says Eion Dreya, senior fellow at the Martens Center for European Studies. "There is very little chance of any accelerated accession process."
According to Barron's, it took the EU more than a decade after the collapse of the USSR to absorb the countries of the former Warsaw Pact and the Baltic states. Croatia last joined the EU in 2013 with four million people. "There is enlargement fatigue in the EU and reform fatigue in the candidate countries," says Marie-Yves Bélanger, a researcher on EU enlargement at the University of Geneva.
Ukraine, on the other hand, is perceived as a "poor relative," Barron's notes: its per capita gross domestic product is less than half of the current poorest member of the EU, Bulgaria. Allowing Kiev to shorten the queue before five existing candidates would be "terribly destabilizing in the western Balkans," says Eion Dreyja.
Marie-Yves Belanger notes that all other Eastern European members joined NATO before the EU, handing over outsource your security from Brussels.
According to experts, the official decision of the European Commission would be more reasonable. Ukraine, most likely, will not be given the status of a full-fledged candidate country, but the status of a potential candidate, says Carnegie Europe Senior Fellow Richard Youngs: "Then they will take measures to slow down the whole process."
Ukraine can look Turkish example to appreciate how slow the path to a united Europe can be. Turkey has been an EU candidate since 1987 and has nominally been negotiating accession since 2005.
But the head of the European Commission, it seems, is less concerned about real problems than the readiness to express emotional support for Kiev. "Russia will plunge into economic, financial and technological decline, while Ukraine is moving towards a European future, that's what I see," Ursula von der Leyen flourished.
Von der Leyen's trip to Kyiv was directed to provide Zelensky with moral and some financial support. She promised to support Ukraine to come out of the conflict as a "democratic country", in which, according to her, the European Union and other donors will help.
The head of EU diplomacy, Josep Borrell, expressed the hope that the EU will be able to provide Ukraine with more 500 million euros to buy weapons in a couple of days.
And Zelensky, for his part, urged Brussels to do more to punish Russia, including a ban on the purchase of Russian oil and gas, and urged the EU to accept Ukraine as a full member .
Earlier, Josep Borrell expressed fears that the refusal of Russian oil could cause a sharp jump in prices, which would be painful for European economies. He said that a decision on export would be made on Monday in Brussels.