The US government has not launched an official procedure for the resettlement of people from Ukraine
Hundreds of Ukrainians arrived in the Mexican border city of Tijuana to seek asylum in the United States, and more such people are expected. The other day, President Joe Biden said that America would accept up to 100 thousand Ukrainian refugees, but for now they have to get to the United States at their own peril and risk.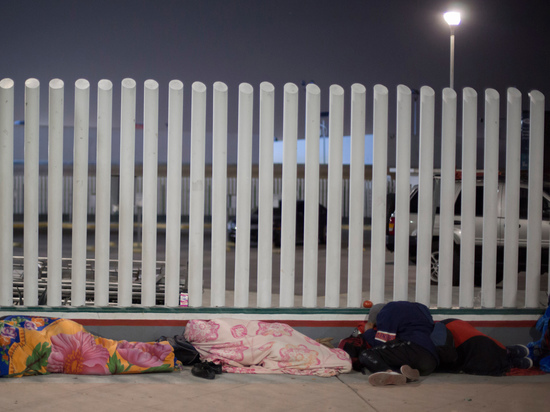 Photo: Global Look Press
The U.S. federal government has not yet given a timeline for resettling Ukrainian refugees—often a lengthy process—or details about where they will be resettled. It is unlikely that the United States will see a massive influx of Ukrainians on charter and military flights, as it did with Afghan refugees last year.
The number of Ukrainians seeking asylum on the US-Mexico border is growing every day. "Right now, there are about 1,500 Ukrainians in Tijuana," Enrique Lucero, director of migrant affairs for the Mexican border town, told CNN. "We have had a sudden influx in the last four days, mainly because after the conflict started we started seeing arrivals from March 11th, and since then the number of people arriving has increased significantly."
Residing in Orange County ( California) Inna Levien is part of a group of volunteers leading efforts to help Ukrainians near the border. She told CNN that the number of Ukrainians has quadrupled in the past few days.
As Enrique Lucero told CNN, although he expects all migrants to enter the US, US authorities are in no hurry to process them, and therefore So many people have gathered this side of the border in Mexico.
"They process 100, 150 or even 200 a day, and it takes almost three hours to process them," says Lucero. "That's why we see this mini-camp on the border."
The U.S. Department of Homeland Security is allowing Ukrainians to be exempt on a case-by-case basis from Trump-era pandemic restrictions that allowed the expulsion of migrants gathered at the U.S.-Mexico border and which continued to be used under the Biden administration. These restrictions will end on May 23, the US Centers for Disease Control and Prevention announced on Friday.
In the past two years, about 1.7 million migrants have been expelled by US authorities using these restrictions. But US officials made an exception for Ukrainians, writes The Washington Post.
A group of volunteers, made up of Californian mothers who met on social media, provided arriving Ukrainian families with essentials such as food, blankets, tents and toys to keep their children busy. According to Inna Levien, those refugees who have the financial means are encouraged to stay in hotels, which cost about $40-60 per night.
Volunteers also help by bringing people arriving at the border, to the list and assigning them a number so that they do not have to stand in line all the time while they are waiting to enter – after all, the waiting time can take more than 24 hours. .
But the city of Tijuana has also been instrumental in providing some relief, says Levien: Authorities have recently turned a bus station into a temporary shelter, and a network of churches has stepped up to help house families waiting to be processed by immigration authorities.
By According to Enrique Lucero, the city is also working on converting the sports facility into a temporary shelter. "We were told that about 500 migrants would arrive on the next flights, so during the day their number would increase to two thousand," he said.
According to The Washington Post, in March the United States pledged to accept up to 100,000 Ukrainian refugees, but a way has yet to be found to bring them in directly, as there are no resettlement programs or visa channels. This led to the fact that more and more Ukrainians began to book flights to Mexico. They get to the border with the United States on foot, many carry children in strollers and drag suitcases.
On social networks and instant messengers, groups with thousands of participants now explain the process in Ukrainian: from major European cities, fly either to Cancun or Mexico City. Ukrainians do not need a visa to enter the country. From there, another flight to Tijuana.
About 300 meters from the US border, a small camp has grown up, where families sleep in tents and under tarps. It's the same tiny patch that has hosted refugees from all over the world in recent years: Central Americans who were part of the migrant caravans in 2018; Haitians and Cubans who arrived during the pandemic; Mexicans fleeing this year's surge in violence. But few refugees are processed by US authorities as quickly as those who arrived from Ukraine.
The federal government has not said when the official resettlement process will begin, but Ukrainian communities in such American cities, according to the Associated Press, like Sacramento and Seattle, are already mobilizing to provide food, shelter, and support to refugees entering the country through other channels, including on expired visas or through Mexico.