From COVID and Ukraine to more expensive gasoline: American voters are angry at the head of the White House
Joe Biden's stay in the White House, which lasts just over a year, has been called the "damned presidency." As head of state for 14 months, the President of the United States has faced the effects of the COVID pandemic, inflation, the Russian-Ukrainian conflict and energy prices – and it seems he can not rest.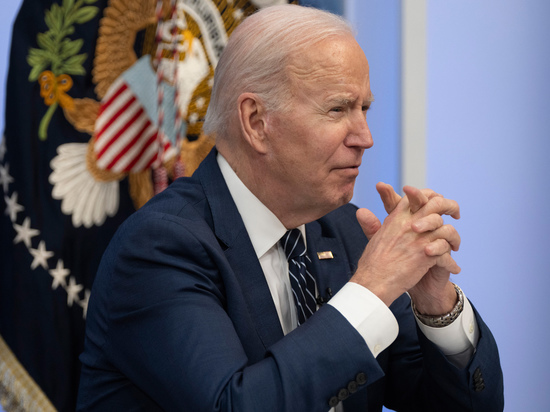 Photo: Global Look Press
'The left is calling for a green energy revolution. The right bellows the battle cry "Storms, baby, storms." And American voters, tired of political excuses, get angry, – thus begins an article by The Guardian's Washington bureau chief David Smith about the "curse"; Biden's presidency.
Rising fuel prices have become a new headache for Joe Biden in the year of the midterm elections, he writes. Republicans accuse the President of promoting a "radical anti-American energy program" while Democrats blame "greedy oil companies" and the Russian military operation in Ukraine. While some argue that the crisis is an opportunity, consumers are feeling stifled by the latest tangled issue of a US president who, after 14 months in office, seems to be unable to breathe.
"Biden has a damn presidency," — says Larry Jacobs, director of the Center for Policy and Management Studies at the University of Minnesota. According to him, the American president is trapped by the ongoing COVID pandemic, by inflation spiraling out of control, by Russia's actions, and now by soaring energy prices hitting voters' wallets: ;They want to be able to fill up their cars with gas without spending a hundred bucks.
Gas station prices, which reached a record high of $4.43 a gallon average last weekend, were rising long before how Russia launched a military operation in Ukraine as demand recovered from coronavirus lockdowns, The Guardian notes. But by announcing a ban on the import of Russian oil into the United States, Biden tried to present the fuel situation as "Putin's price increase".
Republicans, however, saw a political bludgeon with which to defeat Biden. They claim that Biden, as part of his campaign promises, declared war on domestic energy production, signed an executive order to eliminate fossil fuel subsidies, etc.
Mitch McConnell, Senate Minority Leader, tweeted: "No one is buying into Democrats blaming 14 months of bad policy on a three week crisis in Europe. Inflation and gas prices were skyrocketing and hurting families long before the end of last month. The White House needs to stop denying its mistakes and start correcting them.
Republicans have also denounced the White House for reportedly considering making deals with authoritarian regimes for reserve oil supplies, undermining Biden's moral authority at a critical moment on the world stage, The Guardian notes. Former President Donald Trump told supporters at a rally in South Carolina, "Now Biden is crawling around the world on his knees, begging for mercy from Saudi Arabia, Iran and Venezuela."
As a solution to the problem, Republicans are calling for a significant increase in domestic oil and gas production in order to end dependence on foreign countries. Introducing the legislation, Senator Josh Hawley of Missouri said, "To be strong and free as a nation, we must be energy independent. My bill will reverse Joe Biden's disastrous energy capitulation that allowed Russia to dominate energy, and instead fully open up American manufacturing."
But critics say that while "energy independence" seems like a resonant campaign slogan it's based on a false premise. The price of oil is set on the world market, not by American producers. According to the Energy Information Administration, the US exported more oil than it imported in 2021 and also increased its total crude oil production.
Nikos Tzaphos, an energy and geopolitics expert at the Center for Strategic and International Studies think tank in Washington, DC, states: "We are energetically independent by the definition people use. We are a net exporter of energy, and this does not protect us in any way, which is not surprising for those who have ever thought about energy markets.
There is still a problem, the author of article in The Guardian continues. Consumer fuel prices usually move in tandem with oil prices, but this week, with oil prices falling below $100 a barrel as the COVID-19 outbreak threatened demand in China, little has changed at gas stations. Democrats accuse giant oil corporations already making billions of dollars of speculation.
Biden tweeted: "Oil prices are down, fuel prices should be too. The last time oil was $96 a barrel, gasoline was $3.62 a gallon. Now it is 4.31 dollars. Oil and gas companies should not increase their profits at the expense of hardworking Americans.
Chuck Schumer, Senate Majority Leader, and Frank Pallone, chairman of the House Energy and Commerce Committee, demanded that oil executives testify before Congress on April 6. Schumer said on the Senate floor: "The striking discrepancy between falling oil prices and rising gas prices smacks of price gouging."
In an interview with The Guardian, Ed Markey, Democratic Senator from Massachusetts, noted that oil companies already have all the land they need to heed the Republican call to "drill, baby, drill" but won't because it's against their business model.
"Chevron, Exxon, BP, Shell — last year they had a combined net income of $75 billion and despite all their crocodile tears right now about this crisis, they have already announced that they are going to return $38 billion to their shareholders – instead of taking $38 billion and drilling on federal lands in the United States for oil and gas, — Marky said. – The reason they are not going to do this is because they are hypocrites, they are liars. They don't want to drill because if we produce more oil, it will lower prices for consumers. So it's all one big lie.
Senator Ed Markey welcomed Biden's decision to use the US strategic oil reserve, which contains 600 million barrels. But he added: "In the long term, we need a technological revolution. If we do this, then historically we will look at all these companies and countries in the rearview mirror. We need to move on to "turn it on, baby, turn it on." We need wind, solar, battery technology, all-electric vehicles, all other innovative technologies that reduce greenhouse gas emissions but also eliminate the need for oil and gas for our economy, the European economy, the economy of Japan and all of our allies.< /p>
Biden is also under pressure from the grassroots, continues The Guardian. More than 200 environmental and indigenous organizations have signed a letter demanding that he use the Defense Production Act, which is commonly used by presidents in wartime, to force companies to produce weapons, to force businesses to produce solar panels, wind turbines and other sources of clean energy.< /p>
Biden has given little hint of such a move as he is counting on Congress to take action. But his signature Build Back Better plan, which would put about $550 billion into the clean energy and climate business, doesn't seem to be going anywhere. One of the main obstacles has been Democratic Senator Joe Manchin of West Virginia, who recently told an energy conference that he "really hates" see the development of electric vehicles.
Public opinion polls show that Biden's handling of the crisis in Ukraine has broad public approval, but with hints of a new wave of coronavirus, the list of his problems is never shortened. Whatever the causes of inflation, history suggests that voters can punish a Democratic president at the ballot box.
Biden's legislative ambitions for the climate crisis and other priorities are about to collide with the midterm elections, in which all signs point to a Republican victory in the House of Representatives and possibly the Senate. As a result, The Guardian predicts, Biden could spend the second half of his term vetoing laws rather than signing them.