Stoltenberg and Blinken discussed contacts with Moscow and "containment of aggression" against Kiev The North Atlantic Alliance is ready for dialogue with Moscow in the framework of the Russia-NATO Council and "is united on the issue of deterring further aggression against Ukraine," Blinken and Stoltenberg said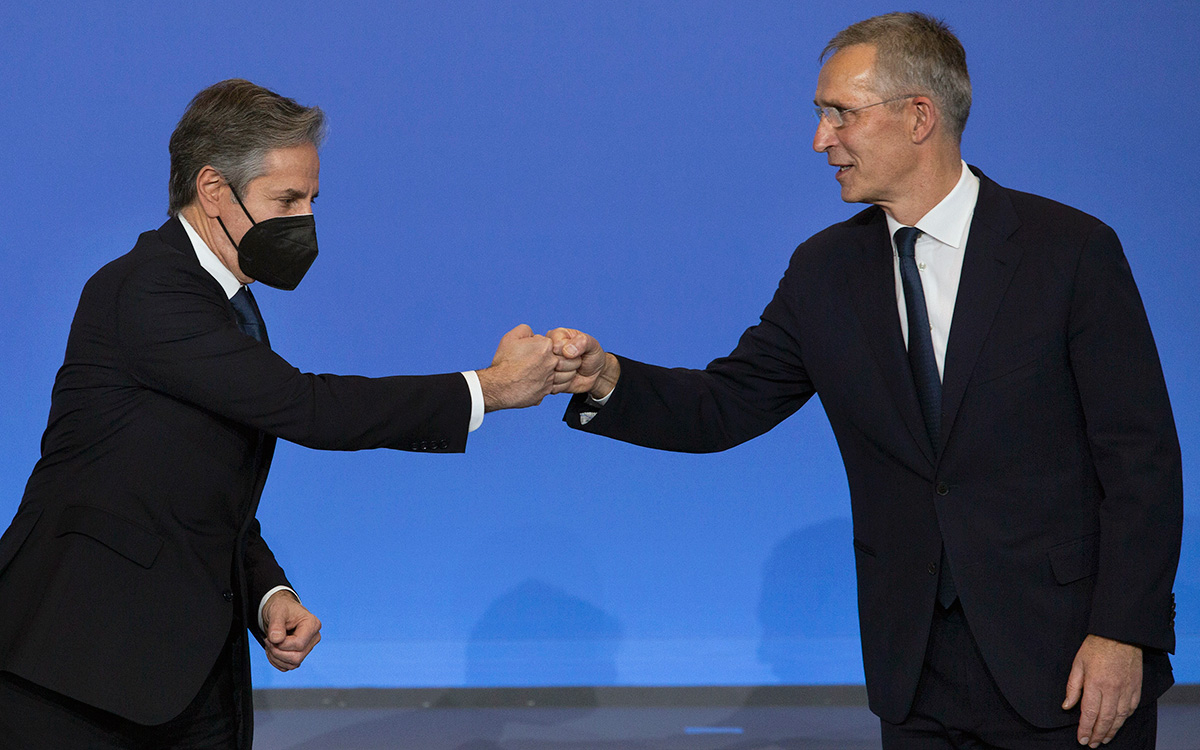 Anthony Blinken and Jens Stoltenberg
US Secretary of State Anthony Blinken discussed with NATO Secretary General Jens Stoltenberg the situation on the Russian-Ukrainian border, in particular, " the importance of de-escalating significant Russian military power in and around Ukraine. '' Stoltenberg wrote about this on Twitter.
" NATO is a united front. We are ready for dialogue within the NATO Council & mdash; Russia, which will take place on January 12, & raquo;, & mdash; he added.
Blinken said that together with Stoltenberg he calls on Russia to negotiate with the United States on strategic stability, as well as with the North Atlantic Alliance and the OSCE. According to him, NATO is ready for a dialogue with Moscow, but " is united on the issue of deterring further aggression against Ukraine. ''
Reports that Russia was building up its military power on the border with Ukraine began to appear in Western media, including The Washington Post and Politico, in the fall. The publications referred to intelligence data and satellite images. The Associated Press reported that Russia plans to start hostilities in Ukraine in early 2022, sending 175,000 troops there. The Kremlin rejected this information, called it baseless and said that Russia does not threaten anyone. President Vladimir Putin said that it was NATO that was making 'dangerous attempts to conquer Ukrainian territory.'
than Russia will not put up with. Putin also said that the United States came with missiles to " our doorstep. '' Clauses on non-expansion of NATO to the east, non-accession to the alliance of the countries of the former USSR and a ban on military activities on the territory of Ukraine are contained in the draft security guarantee treaty that Russia sent to the alliance and the United States in mid-December.
The draft agreements will be discussed at the talks between Russia and the United States in Geneva on January 10. The White House said that the American side may agree with some of Russia's proposals, but not those concerning NATO.
Meeting of the Russia Council & mdash; NATO will take place on January 12 in Brussels. Stoltenberg ruled out a compromise on Ukraine's entry into the alliance. A meeting between Russia and the OSCE is scheduled for January 13.
Subscribe to RBC's Instagram Get news faster than anyone