According to the President of Ukraine, sister city ties do nothing for the United States, but allow Russia to say that it is not isolated. In March, relations with Moscow were interrupted by the Chicago authorities; cooperation was also terminated by a number of cities in Europe
Ukrainian President Volodymyr Zelensky during the US Conference of Mayors on Friday, June 3, called on the authorities of American cities to break off relations with Russian sister cities, reports The New York Times.
"What do these connections give you? Probably nothing. But they allow Russia to say that it is not isolated,— The newspaper quotes the Ukrainian president.
Representatives of Portland, who signed a treaty of friendship and cooperation in 1988, commenting on Zelensky's appeal, referred to a statement by the non-profit organization Sister Cities International (SCI), which did not recommend US cities to cut ties with Russian partner cities. In other cities, they did not respond to the newspaper's request.
Many American municipalities have partnerships with cities in other countries; they may involve business and political cooperation, but are mostly symbolic, notes the NYT.
Twin cities began to emerge after World War II, in part to help the post-war reconstruction process and reconcile former adversaries in Europe and Asia, Bloomberg notes. SCI was founded in 1956 under the 34th President of the United States, Dwight Eisenhower, with the goal of "supporting global cooperation at the municipal level, promoting cultural understanding, and spurring economic development." The organization initiated efforts to strengthen ties between the US and the USSR; by 2018, the number of twin city pairs in Russia and the United States exceeded 60.
In March, shortly after the start of the Russian military operation in Ukraine, the Chicago authorities decided to suspend cooperation with Moscow (they became sister cities in 1997). According to local media, San Jose decided to maintain relations with Yekaterinburg. San Diego and Jacksonville are still sister cities of Vladivostok and Murmansk, respectively, writes the NYT.
Read on RBC Pro Pro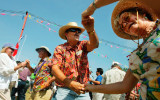 Music, dancing, tongue twisters: what will help improve brain function we dream: 5 theories Articles Pro Amazon CEO: you need to rethink business when everything is fine Articles Pro What financial protection measures to use in the contract Instructions Pro How sanctions will affect Russian exports Research
In March, a number of European cities decided to break off or suspend cooperation with Russian : Czech Cheb— with Nizhny Tagil, Oxford— with Perm, Rovaniemi (Finland)— with Murmansk, Tallinn— with Moscow and St. Petersburg, Gdansk— with St. Petersburg and Kaliningrad, Warsaw— with Moscow, St. Petersburg, Grozny, Nizhny Novgorod and Smolensk.
Moscow and Kyiv ceased to be sister cities in 2016.
Authors Tags Subscribe to RuTube RBC Live broadcasts, videos and recordings of programs on our RuTube channel